Catch up report from Peter Jenyns who released this black (above) 2nm off Cape Moreton on Friday, solo on his boat Salt Shaker III!  Definitely a bigger model than expected at the spot at this time of year.
And Peter has also earned his brownie points for the month/year freeing the fish of about 16m of 600lbs mono tangled around bill and pectoral fins – which he presumes as longliner gear. Peter says that it couldn't have been dragging it too long given how clean it was but still the fish will be counting his lucky start to have been 'caught' twice!  He managed to cut it all free as well as to remove his own hook and the fish swam away in good condition!
Photo courtesy of another lucky happening with a  guy on a Jetski appearing to take the shot.
Meanwhile yesterday, Jay Graham's Chaos was at it again for this nice fat blue marlin for Josh Allwood off Cape Moreton as well.  Looks like a pretty nice day on the water when you can take your tshirt off in SEQ in Aug! Jay says that the SW wind died out mid morning and it was a pretty nice day after.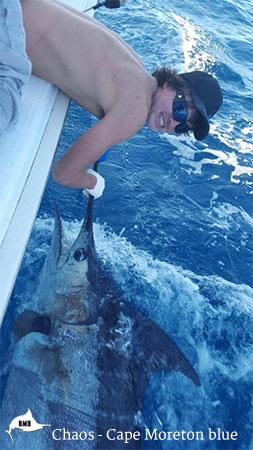 And some more from the Monte's in WA with Blue Lightning Charters Capt. Chad Mills spending yet another day at the end of a 7 day trip to the Montebello Islands from the Dampier/Karratha releasing another 4 juvenile black marlin for his guests.
Also the newsletter goes out today. If you're not signed up you can do so here.