A report from Paul and Sharon Pouter's Think Big in the leadup to the Light Tackle Slam/AIBT out of Yorkey's Knob this week:
Paul reports that they took advantage of the good weather at the weekend and headed out with the 4 and 6kg tackle.
Saturday was crazy with chop offs from the razor gang every few minutes. Around lunch time they hooked up to something on the 4kg and it just kept heading for the horizon with them in hot pursuit but it didn't jump so a yellowfin tuna is the likely suspect. They got it to within 20m of the boat before the line parted.
Around an hour later they hooked up on a black marlin with the 6kg which gave them a good display of acrobatics but unfortunately it jumped off at the back of the boat.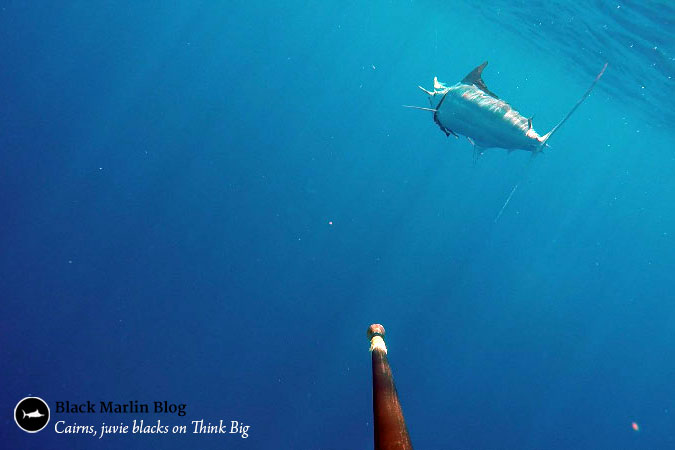 Sundays action started around 10.30 with good bait on the sounder. They were soon hooked up to a black on the 4kg which was successfully tagged around 20 mins later. 50 minutes later they were hooked up to another black this time on the 6kg, after 15 mins they successfully tagged their 2nd for the day.
The next few hours went quiet so they went looking for the bait and found it around 3pm with another black marlin hook up on 6kg which was successfully tagged shortly after to make their count 3-3-3 for the day.
On Monday they fished for a few hours in the morning and found a few bait schools but didn't get any bites.
Great underwater pic too – thanks for the report!