Well the Solitary Islands Game Fishing Club's first pointscore day certainly lived up to expectations on Saturday, with the weather and the fish playing the game magnificently. Ten boats fished, and it was very much a case of the sistas doing it for themselves, with Emma Bevan on She's A Dream and Maddison McGinty on Alcatraz tagging their first marlin (both stripes). Well done, girls!
Seaborn tagged a striped marlin with Dylan Steel on the rod, and also boated a 34 kilo yellowfin tuna on 24. Magnum boated a yellowfin of identical size, and Duchess scored a 15 kilo mahimahi. The yellowfin and marlin proved difficult for the rest, happy to show themselves, but not eat properly, if at all. Still, there's always next weekend!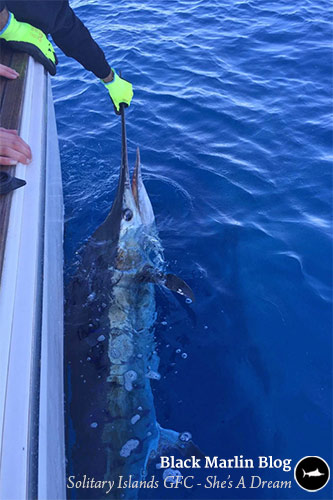 And further south again, the photo at top comes from Dave Robinson (Finjitsu) who tells me they also found a nice patch of water off a nice patch of water off the Newcastle Canyons with blue water at 21.8 degrees. No success on the conversion but they did raise 3 blues (maybe 2 and a striped).  Doug also heard of a striped lost and a free jumping black seen and one hooked and lost.