Finally a couple of good reports from fishing yesterday on the reef have come in.
At the top and after a bumper trip up the east coast from the Goldy, and getting stuck into the GT's between Mackay and Cairns, Granville Heydenrych's charge, Happy Hooker had a 'top day at the top' yesterday going 4 from 5. Glanville said they fished heavy tackle north from Number 7 Ribbon but the hot bite was late off Number 10 – with nothing too big, up to 450lb but he marked a heap more as well (photo).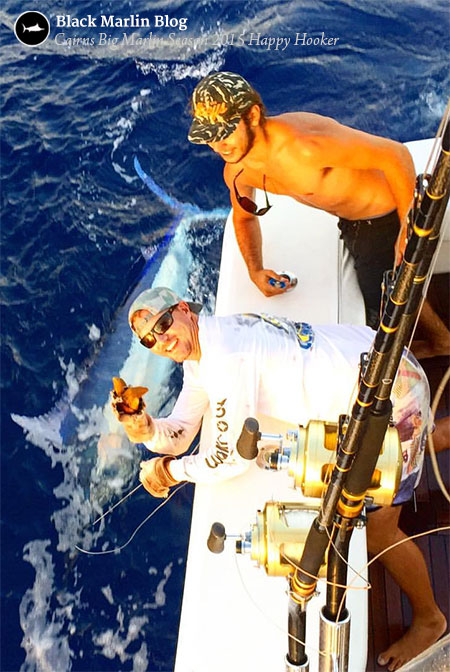 And down the bottom heading into Cairns, Capt. Tim Richardson's Tradition released a fish that Tim put at 700lbs for young Ryan Chain (top) – which was his first marlin, and an awesome way to start! This follows up from another first for another youngster Riley McDonald who caught his, a smaller fish, a few days ago. The team have just finished a trip up to the Ribbons and back with the boys enjoying everything the reef has to offer.
And yet another first marlin, this time on the juvie scale with Bernard Tracey reporting a 3-3-1.95 on Tuesday. Bernard said they were unlucky on the first fish (the .95) breaking the leader right beside the boat! Thinking it wasn't going to happen and then jumping off a bigger fish about 150lbs, son Liam finally got his first marlin to the boat. They were fishing out of Bernard's 3.9m Cairns Custom Craft out of Lucinda. Another awesome effort!
And yet more juvies to the south with Capt. Scotty Coulter on Bite Me Fishing Charters reporting a 7-5-4 off Yeppon yesterday as well as some spotty mackerel and mack tuna. Scotty says that they were raising the fish in 2's and 3's and that he's been hearing of quite a few being caught over the last few weeks as well!