After a top day at the top (of the Ribbons) for Glanville yesterday, its was a HOT day at the bottom for Capt. Brad Craft's Castille. Brad found and put his guests on a bunch of fish with 11 raised, 7 bites converting 4 at 850, 350 and two wrigglers.  Brad said they fought and lost two more big fish including one that they battled into the dark. When you're hot you're hot!
Meanwhile on Capt. Steve Ahler's Hellraiser, Russell and Monique from The Lure Shop spent 4 days on the reef, catching four marlin for the trip and then yesterday, Monique had this big one on, then broke the wire after a 6 min fight. Steve said he marked several, but as fishing goes you cannot always make them bite.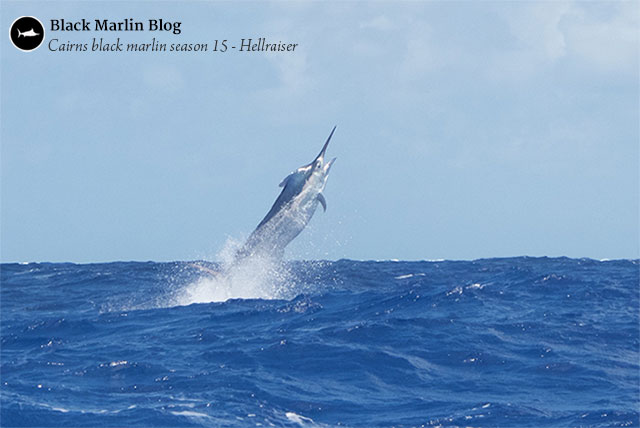 And also to the south, Capt. Casey Dent's Zulu had a 2-1-1 with a fish that he put at about 800lbs.
But fish seem to be a bit harder to find at the top yesterday. We saw Bounty Hunter hooked up to a smaller model earlier in the day and found a few of the same ourselves on KEKOA converting one for angler Craig. Capt. Tom Francis on Ultimate Lady reports a quieter couple of days also converting one yesterday at 400lbs. And Luke spoke to Capt. Chris "Sharky" Miles on Levante who caught three a couple of days ago, but quieter day yesterday as well.
On the light tackle front off Cairns, Paul and Sharon Poulter on Think Big headed out with the 10kg gear. Paul says that it was a little choppy around the Fitzroy grounds but they did find this nice sail (40kg) swimming with an equally nice buddy who stayed close until release. Plenty of dolphins around too and a few Spanish mackerel as well.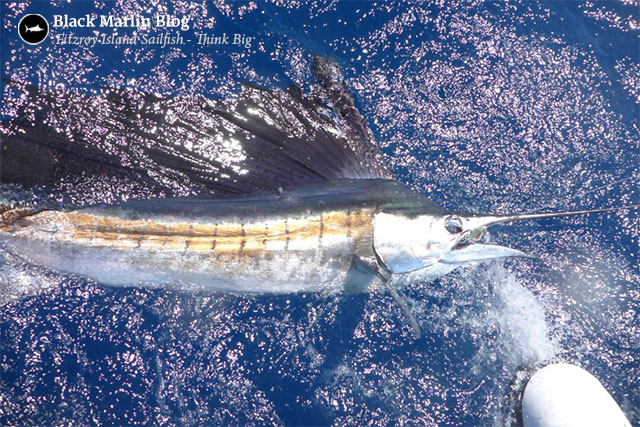 And another report to add to the growing numbers of the juvie blacks off Yeppoon on Pelagic with Nathan Green and Adrian Osborne recording a 12-8-6.