It was another of those big fish days on the reef yesterday, that more than makes up for the pretty appalling weather conditions.
Capt. Brad Craft's Castille III picked right up where he left from the day before with another hot day of fishing including our first (reported) grander black marlin on the 2015 Cairns marlin season.  They caught one fish that Brad put at 1000lbs and broke the leader on another big fish as well. In a total of 3 from 4 for the day, Jack, Capt. Brad's son also got a little one on stand up gear.  Brad headed into Cairns last night after a ripper trip that included 8 fish in three days! (Hopefully some photos to come).
Also having a big fish day, Capt. Chris "Sharky" Miles on Levante putting his angler Tom Wheaton onto the big fish on the late bite.  Sharky put the fish at 'well over a thousand pounds' and one of the biggest he's seen in a real while.  Photo at top from the video and one below that I took from kinda nearby after drowning my camera on our fish earlier in the day (more below).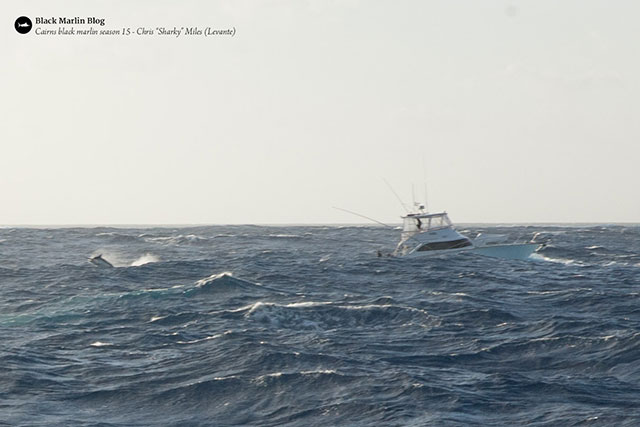 On Capt. Luke Fallon's KEKOA we also had a better and bigger day converting two from three with a tough little fish for Bart at 250lbs early leading into a tougher big fish in the wet for Craig that Luke put at 800lbs after lunch which gave us a good display on the leader before release (pic below).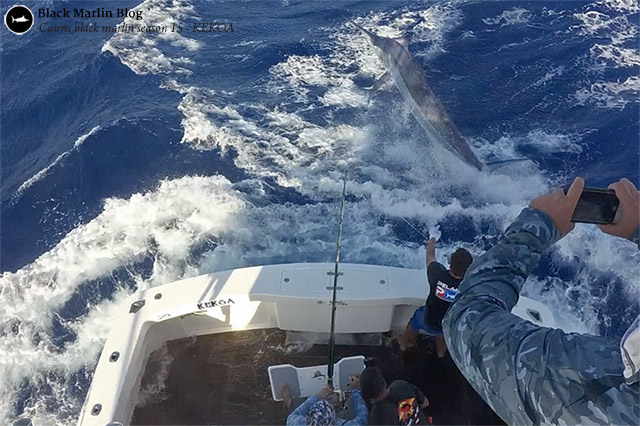 And a catch up report from Capt. Corey Hard's Askari who is back at it after a great family trip in and out of Lizard and managed a couple of fish both being the first marlin for 2 junior anglers Haydon at 250lbs and Marlon 400lbs.
I also had a report from Capt. Ashley Matthews on Reel Easy (Sea Fever SF) who are making their way to Cairns. Ashley says that the GT and sport fishing has been good on the way up.  The fished wide of Innisfail yesterday for a 2-2-2 with both fish around 250lbs for Zac from Airlie and Peter from Mackay (photo).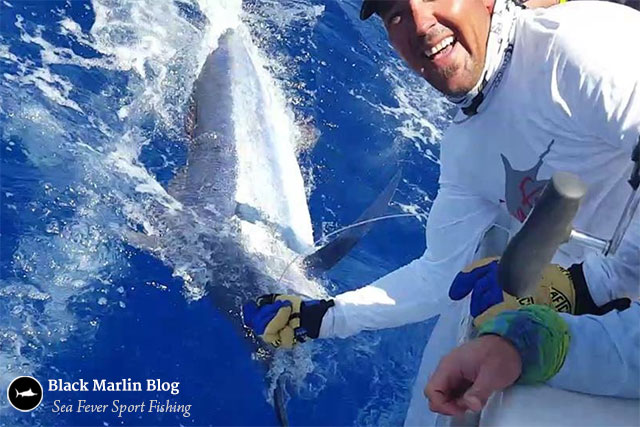 And down off Coffs and the Solitary Islands, the 'mid week golfers' of the Solitary Islands Game Fishing Club have been making the most of the glorious conditions off the Coffs coast these past few days, with Better Than Vegas scoring a striped for Steve Millington, and going one from two on sailfish with Adam Allaway the angler. Sailfish in September in 400 fathoms — who would've thunk it!
Wicked Weasel went 3-2-1 on striped marlin, with Ronnie Smith successfully tagging an 85 kilo fish on 24.  And Better Than Vegas was back out again on Thursday and a new club member in Bryce Young tagged a nice blue in 800 fathoms that measured out at 2.75 metres short length. Top Shelf scored some solid blueye trevalla deep dropping, before junior angler James Munro tagged a 110 kilo striped marlin on 24. A great school holidays fish!
Pic shows Ron Smith's fish from Wicked Weasel.