Well this is Saturday's report that I couldn't post yesterday:
As promised yesterday, a catch up report from Capt. Corey Hard's Askari who was in town on changeover after a 7 day trip.  Corey says that they finished up with 15 fish for the 7day trip including 3 big ones! (And as far as I know, Corey was fighting a big fish at the death yesterday as well so no doubt another catch-up report to come again.)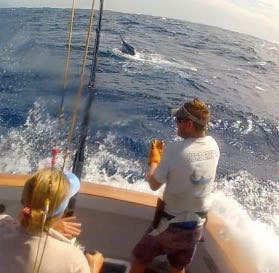 Saturday there were some more big fish across the fleeting. On Iona 2, angler Alicia Pasfield accounted for two at 350lb and 850lb. (photo – not sure why it came through so small sorry!)
And Capt. Tom Francis's Ultimate Lady also released a big fish after a run of smaller models.
On KEKOA we released a medium model for angler Ron on what for everyone fishing, although still blowing 20 knots, was a relief from the 25-30 knots of late.  And Capt. Dan McCarthy's Moana III also added a 300lb-er at Number 4 Ribbon at the death as well.
Sunday report to come.
Gold Coast/SEQ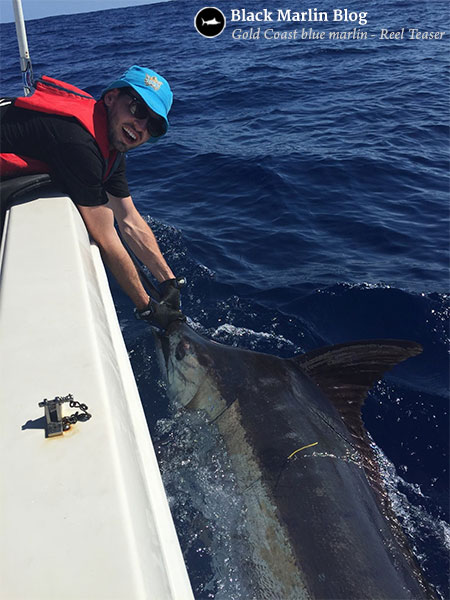 More great Gold Coast fishing with Jesse Hill reporting an awesome day on his boat Reel Teaser with a 5-4-3 blue marlin to another virgin angler yesterday (photo).  Looks like the pick of the weather too!
Jesse says that there were a few other fish on other boats as well (approx 5 tagged all up) and some frustration too that comes with the blues with one boat going 0 from 4.
I also hear there were a couple up to the north off the Cape as well.
Coffs and Solitary Coast Hot to Trot
12 Solitary Islands Game Fishing Club boats fished the club's first In-Hours comp for the month, with the stripes and blues thick along the shelf out the front and to the north of Coffs Harbour.
Most boats saw fish, but Seaborn led the way with a double header of a blue and a striped (with just two on board!), one of which had to be disqualified, then a striped, a couple of missed bites, followed by a 170 kilo blue to Dylan Steel on 24 that went deep and couldn't be revived.
Sweet One II got two blues, one to Terry Dunphy and the other to Cameron Sweeting, Steve Buhagiar nailed his first striped on She's A Dream, as did Craig Want on Magnum. Daran Ryan also tagged a striped on Wicked Weasel.
Nick Crutchfield, a super keen small fry angler, went oh so close to tagging his first marlin, when the 15 kilo line gave out boatside, but according to his very proud grandfather he did a super job and is ready to have another crack next weekend!
Rob Lang's Black N Blue also reports a 2-2-2 blue marlin with the biggest to 220kg.
Pic at top shows Daran Ryan with his striped from Wicked Weasel and below, Dylan Steel swimming Team Seaborn's 'shared' blue.