Ribbons Reefs
Word from the team on board Zulu who were heading north to start a diving expedition with mothership Beluga yesterday who stopped for a quick fish on the edge off the bottom of Number 5 Ribbon. Amanda tells me they went 2-2-2 black marlin to 150lbs and a sailfish on the inside as well as plenty of bottom fish for the table!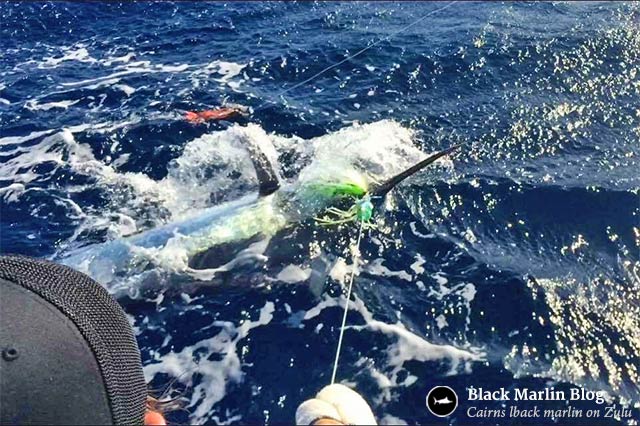 Gold Coast
More reports from the weekend and yesterday from the Gold Coast.
A catch up report from Saturday and a first blue marlin on Ed Aspden's newly acquired O'Brien 34 Malekula. Ed tells me they had missed a few fish from other tips in April — from hooks pulling after the initial run or falling out after 40+min on the line — but this time the hook stuck and they were able to get a tag in for first time blue marlin angler Rob Kostic on a blue over pink Marlin Magic Rocker on the long corner. Ed says the water depth was 450m east of the Broadwater in 24.82c water.  Pic top. Well done Ed, good to get that first one out of the way!
And Mark Bird sent me the photo below from Matt fishers boat Breakaway. Mark says they went 2-2-2 with the first fish was around 150 and and second around 175 both before lunch and both short corner bites yesterday.