The Cairns 50th Anniversary Black Marlin Tournament combined 2016 Australian International Billfish Tournament event will kick of this September 25 with the commemorative (life size!) sculpture unveiling at 14:30pm.
The event will be four days fishing a celebration of the 50th Anniversary of the very first 1000lb black marlin caught off Cairns – the fish that started an industry and highlighted what is still the very best place in the world to battle a giant black marlin.
Schedule:
25th Sept
■ Registration from 1300
■ 1430 Commemorative black marlin sculpture unveiling
■ 1830 Welcome reception / briefing at the Cairns Convention Centre.
26-29th Sept
■ Fishing (4 days)
29th Sept
■ Compulsory return to Cairns Marlin Marina
■ Informal debriefing for sponsors, anglers, crew and guests with drinks and tall tales.
30th Sept
■ Rest day
■ Evening tournament presentation gala & Hall of Fame Awards from 1830 at the Cairns Convention Centre.
There are still members of the professional marlin fleet with vacancies for the tournament. If you are interested in fishing, please get in touch and I will pass on the relevant contact details.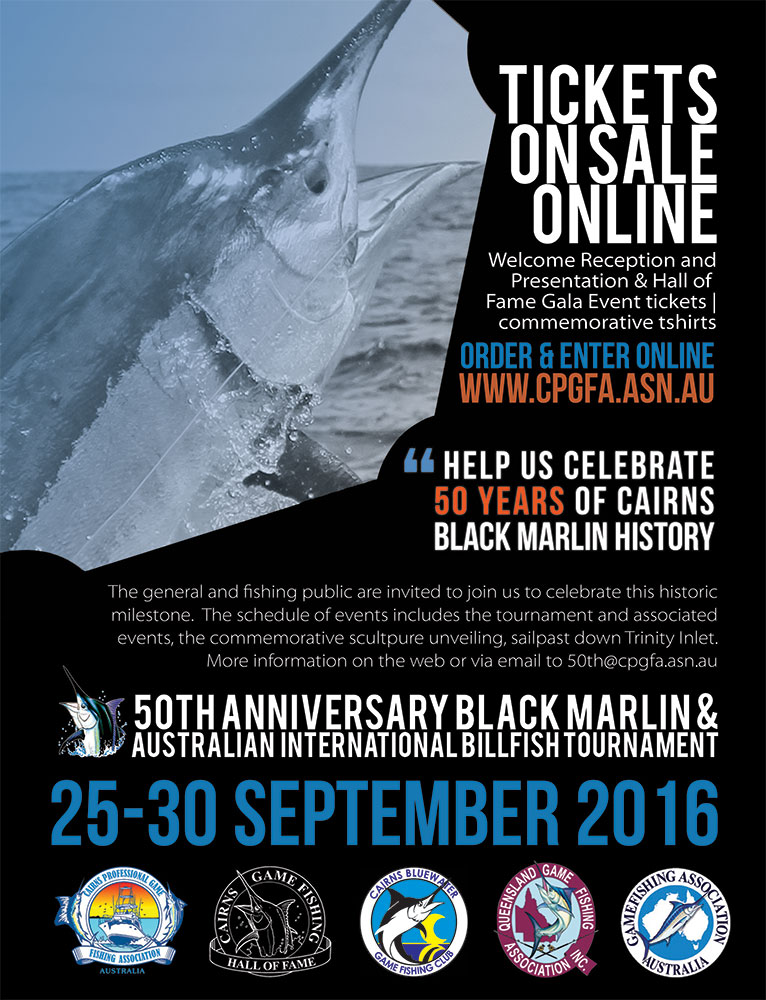 As a sponsor of the 50th Anniversary Tournament myself, as well as being a part of the organising committee, I'm very happy to bring you the above information. Any and all enquiries to 50th@cpgfa.asn.au.