Again post tournament some big fish making themselves known.  On Rod Hawkin's C'mon Aussie Capt. Jared Weir broke their small fish drought in style with two fish that he put at 500 and 850lbs respectively making 11 in their last 6 days of fishing.
Capt. Brett Goetze's Amokura also went two from three with both fish he reported at 600lbs a piece.  While I heard that Capt. Haydon Bell on Kanahoee accounted for another monster at the top which Garrett Penley shot (photo below) from on deck on Tradition. While Capt. Darren "Biggles" Haydon on Bounty Hunter released two smaller models and Capt. Simon Carosi's Assegai also released one early up in the day as well.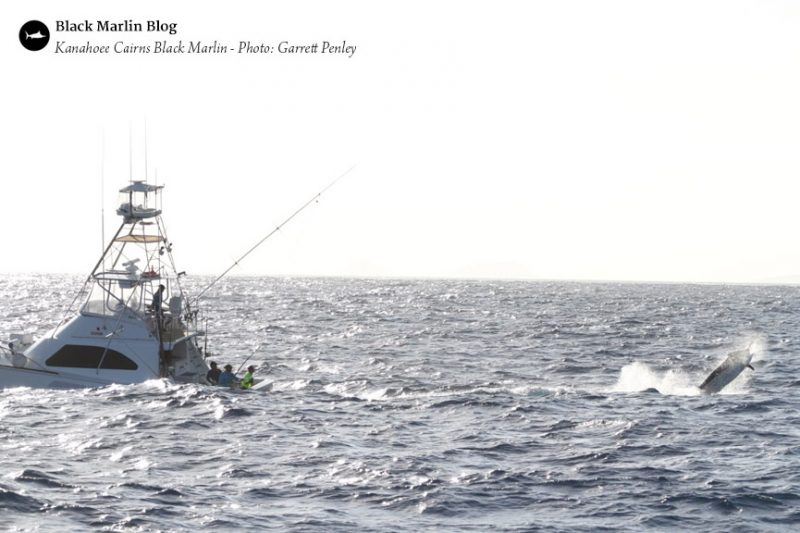 And great pic also at top of PHGFC's Just Chill in action on one of their big fish last week in the Lizard Island Black Marlin Classic. Photo was taken by Angus Johnson on Namu who were fishing nearby. Great shot Angus! #photoenvy
Gold Coast
Meanwhile on the Gold Coast, Glanville Heydenrych's Mufasa was back out off the Goldy and mixed things up (deep dropping) but in the short amount of time that they had the lures in the water we managed to go 1 from 1 on a blue marlin and got a few barcod deep dropping.
Glanville also shared a link to a report and pics (great pics!) from their recent trip out to Wreck and Cato Reefs in the Coral Sea. Read and view here.