With many boats opting for a rest day after the end of the Lizard Island Black Marlin Classic and a return to Cooktown on changeover, it was a quieter day on the Ribbon yesterday.  Boats taking advantage of less traffic up the top and a visit to the rock overnight included Capt. Tim Dean's Calypso who released two fish when last heard from – one big and one small – the bigger of which I snapped this shot of from not actually that close (bit of distance blur!).  Tim is fishing this week and mothershipping with Capt. Darren "Biggles" Haydon's Bounty Hunter who likewise had released one he put at 300 prior to going out of radio range.
On Capt. Luke Fallon's KEKOA we were straight back into it with the UK husband and wife duos on board and first task was a marlin for first timer Alan. He got more than what he bargained for when a fish about 800lbs did the spectacular crash tackle bite on the big bait. He fought hard and well but unfortunately it wasn't to be with the leader chafing through not far from the boat (fish was wrapped up).  But practice does make perfect and it wasn't long after he'd recovered his breath when he was soon onto a smaller fish which was successfully released. We followed up with another for Rob  later in the day to go two from 3.
Capt. Tim Richardson's Tradition fished a bit further down the track on the 2nd day of a new trip with Curtis and Rick from Palm beach in Florida. So far they have tagged one each day with a 300 and 350.  And the only other report I have is from right down the other end with Rod Hawkin's C'Mon Aussie back out after a day off in town adding another two in the 150 to 200lb range. That makes them 9 in five days now. Great fishing!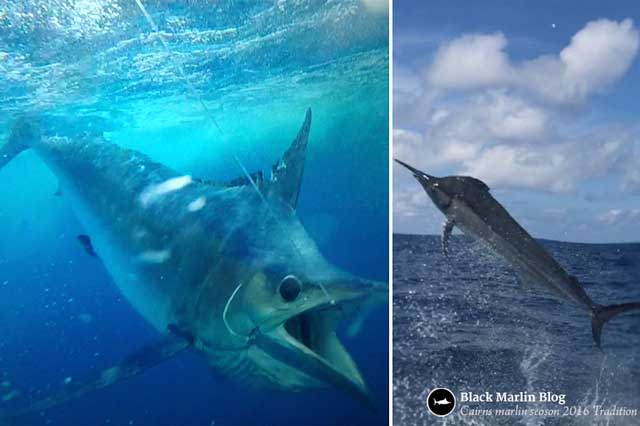 Following up from Lizard Island again, these are the final standings as I have them:
Iceman were winners (and grinners!) with 9 tags clear. Second was Askari on 8 tags. Third went to Cookie on 8 tags on countback.   Fourth Reel Easy with 7 tags.  Fifth Tsukiji on 6 tags…
And then something like this:  Think Big on 5 tags on countback to Levante, and Top Shot. 4 tags each for Assegai, Hellraiser, Just Chill and KEKOA. Hot Shot  and Wild Turkey on three. On two tags are Entourage, Amokura, The Outlaw, Zulu, Onsite, Kaizen, Topless. And one each goes to Kalira, Reel Shock, Duyfken, Burgendy Lady, Fascination, Viking II, Athaldo, Godfather and Namu.
Champion Angler: James Thackeray on Askari (8)
Runner Up: Jim Stenning on Tsukiji (6)
Champion Female: Sharon Poulter on Think Big (5)
Runner Up: Sue Ahlers on Hellraiser (4)
Dailies:
Day 1 Iceman
Day 2 Think Big
Day 3 Assegai
Day 4 Iceman
Day 5 Levante
Day 6 Godfather
Day 7 Wild Turkey
And once again, a huge congrats to Capt. Bobby Jones and Iceman for his win. The rumors are that its Bobby's 33rd and last year chartering on the reef..but I'll believe that when I see it ;-)
A couple of photos from the event!