Linden Stadium is hot-to-trot this year with plenty of action seen in the southern reef area over the past few days. Let me see if I can get this all together for you.
Photos at top and below of of a couple of big fish caught on Capt. Darren "Biggles" Haydon's Bounty Hunter on their last 6 day trip. The first is a fish that Biggs put at 1100 and the second one at 900lbs. They were in Cairns yesterday for a well deserved day off.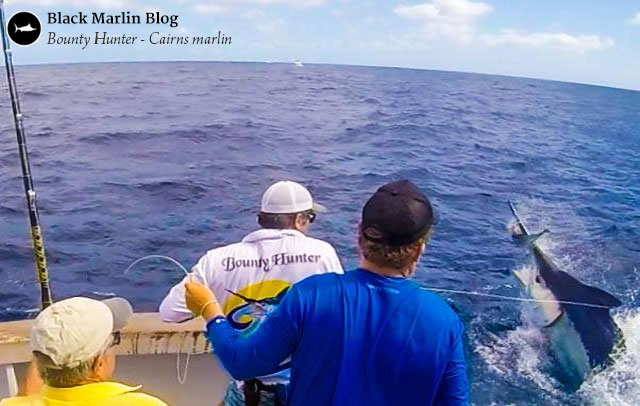 Capt. Corey Hard's Askari is back out again after finishing his 14 day Dreamin' On trip with Sharky mentioned yesterday (Corey reported 16 in 14 days for his side with 3 big ones). Yesterday they got stuck straight back into form with a 3 from 4 as well as a big sailfish.  A small one, an 850 and one they fought for 2 hrs 15 mins in the dark which was over the mark! Great start to a 7 day charter!
Capt. Tim Richardson's Tradition added another 3 from 5 up to 700lbs to their trip tally and pulled hooks on 2 late. Capt. Bill Billson's Viking II went 3 from 6.
And Capt. Dan McCarthy on Moana also added two including this one that he called 850lbs that I shot from nearby.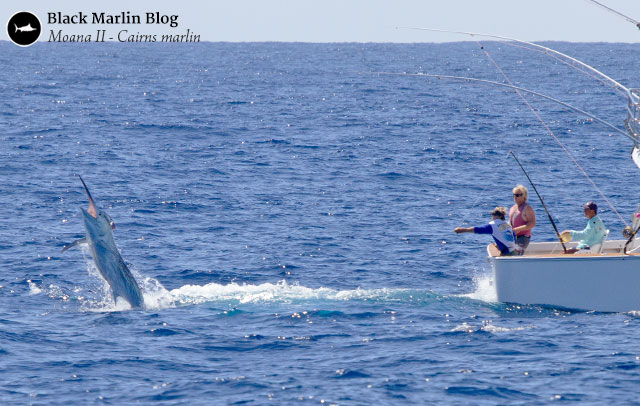 Rod Hawkins' C'mon Aussie was into town last night after their 5 day trip  finishing with two more yesterday at 200 and 350. That was 9 for the trip including the big one at 800+.
Up in the middle, Tony on Capt. Steve Ahler's Hellraiser also reported an awesome few days with 4/5 with 4 from 5 including a 450, 700, 900+ and 999+.  Capt. Bobby Jones' Iceman has likewise been getting into the fish with 3 from 3 including a real nice one.