Cairns Giant Black Marlin
Plenty more fish around yesterday though perhaps not the size of fish the day before.  Capt. Corey Hard's Askari and Capt. Chris "Sharky" Miles Levante finished up their 14 day trip on the mothership Beluga fishing Linden Bank before heading into Cairns. While they had spent most of their time during the trip at the top of the Ribbons before making their way south on Sunday.  Sharky tells me that they caught about 30 fish between the two boats over the 14 days including a few nice ones and some 5, 6 and 7 hundreds – but the days were long and sometimes tough to get a couple of bites a day. Which pretty much sums up the fishing this season which has been up and down, up and down, up and down..repeat.
Fairing well since returning to Cairns for his latest trip out on C'mon Aussie owner Rod Hawkins tells me they have released six in the last two days, all under 300lbs and a great job by first time angler Fabian Walmsley.
Capt. Tim Richardson's Tradition went 3 from 4 for Aaron , just waiting for a big one now. Capt. Brad Craft on Kiama likewise continued his run with two fish at 400 and 200, and pulled hooks on a big one and lost another small one right before leader. On KEKOA with Capt. Luke Fallon, we caught the same fish twice for Sherrell on 30lb (yes there is a story there!) Photo.
Fraser Island Blues
Report from Jay Graham on Chaos who is home for a couple days RnR now before going up again tomorrow.  They went 3-3-3 on blues Thursday and Friday for 8-6-3 blues. Saturday 0-0-0 and cut trip short cause of auto pilot issues which are now resolved. Other boats fishing included Never Home 3-2-1 blues, 1-1-1 black light, Rough Dimond 1-1-1 black light, Raising Havoc 0-0-0 both days heavy.
Finatic 5-3-3 light blacks with first marlin to Ben Wratten (Barto's step son), Elysium 3-2-2 blues (double header) and Pole Dancer 0 from 2 three days running and 0 from 2 yesterday (the curse continues!) Old Salty Dog went 5-4-4 blues on Sunday off Rainbow Beach and 2-2-2 yesterday.
Jay said there were also a few Gold Coast and Mooloolaba boats fishing. One day Express went 14-10-4 on blues. And Mistress was chipping away at them too. Aurora, Distraction, Deep Blue, Reel Lady, Aluhra and Allure also fished but Jay was not sure of their tallies. Thank you so much Jay for the report!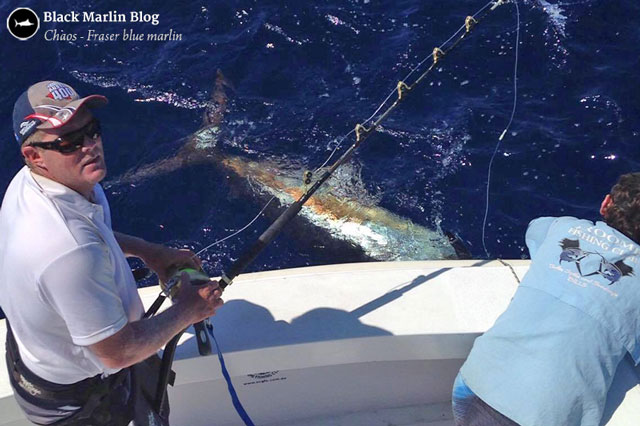 New Caledonia Grander Black
Report from Eric Jalabert who incidentally was just fishing here for giant blacks of the first grander black marlin weighed in New Caledonia waters overnight.  Eric said the fish was the first caught on 130lbs at 516kg (1138lbs) and caught yesterday. The fish was to big to bring into the boat and the angler was Steeve Tojib. A great capture with only two people on board!