Photo at top is from 21 year old skipper Lui Smith on Dragon Lady of a fish that crewman Keith "Stretch" Heaney put up there on the mark on Saturday.  First real big fish for the young skipper!
Capt. Tim Dean's Calypso on fire as yesterday generally a slower day on the reef going 3 from 4 and missing a big fish. Capt. Chris "Sharky" Miles on Levante made the most of their fish yesterday with Conor reporting it one of the biggest Sharky has ever seen (photos).  Catching up they went 4 from 5 Saturday and 2 from 4 on Friday as well.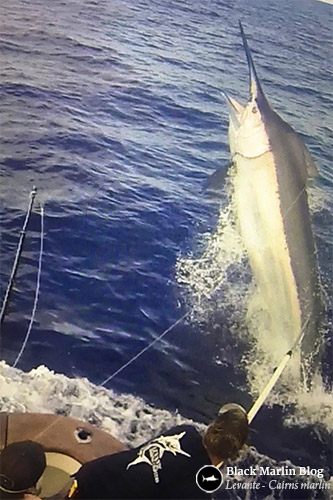 Capt. Ashley Matthews on Reel Easy is also catching up reporting 4 in the last two days for Alex. A 500 and 70lb Friday and a 250 and a real beauty that they fought into the night which they put at 950+ on Saturday.
Capt. Kim Andersen on Adrenaline went 2 from 3 and on Capt. Luke Fallon's KEKOA we went 1 from 1 after returning from a day out wide.
And catch up photo below of Capt. Brad Craft's Kiama in actin on a nice one taken from Gavin Goodwin's Above Grade in rougher weather!
Hervey Bay Comp
Congrats to the team on Col & Kylie Hombsch's Reel Action who took out the Champion Boat/Team award at Hervey Bay yesterday with 6 blues for the 2.5 days fishing. Their final stats were 8-7-6 blue marlin on 37kg also giving Alana the Champion Female angler award.
Overall 30 blues, approx 22 blacks and 1 stripe were tagged. Congrats to all who competed!