Firstly apologies for no blog yesterday. I had no internet at the critical moment!
Port Douglas Marlin Challenge Day 1
The Port Douglas Marlin Challenge started fishing yesterday as well (no sorry I can't hear the skeds on the radio this year!)
Three point scoring tags for the fleet with a 350lb-er to Duyfken putting them in the lead on countback with the first fish. Alex Doumis on Kyrenia also tagged a fish estimated at 350lb  while Capt. Damian Collette's Saltaire was the last tag with a fish at 350lbs for John Donaldson.
Capt. Steve Ahlers's Hellraiser is also fishing the comp and self disqualified a nice on after the fish ate both baits although they did get a satellite tag in her. Photo from Tony Carpenter on board below.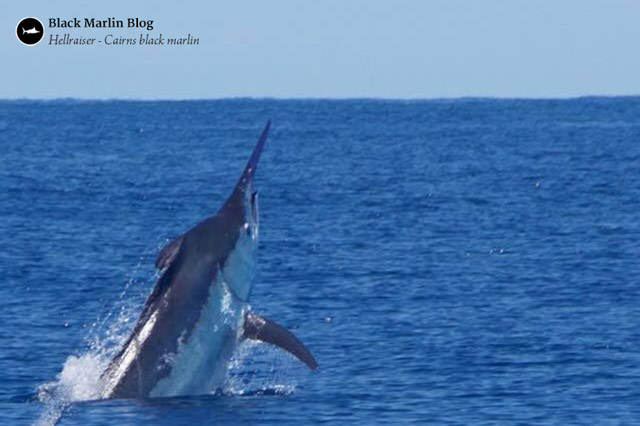 Outside the comp
Some catch up reports from Capt. Haydon Bell's Kanahoee. Haydon was on the first day of a new trip yesterday but gave me some details of his previous two. First up was the boys from Melbourne Alex, Linel and Franky who caught 5 in 5 days including a giant Haydon put conservatively at 1100lb (top). Folowing up last trip with local Tim Dobinson who caught 6 in 5 days including another giant that went 1104lbs on stand up 80 lbs and took Tim 3 hours in a great effort!
Fishing has started well for Capt. Craig "Sparra" Denham and owner Bill Boyle on board Hot Shot. They released 3 from 6 Wednesday including a fish that Sparra put at 950lbs. Yesterday they followed up with a couple of smaller fish. Marco has been keeping pretty busy around working the deck on fish taking photos from the tower so no doubt will be able to share some of his great shots when they get back into better phone/internet reception. I shot this photo of one of their smaller fish from nearby.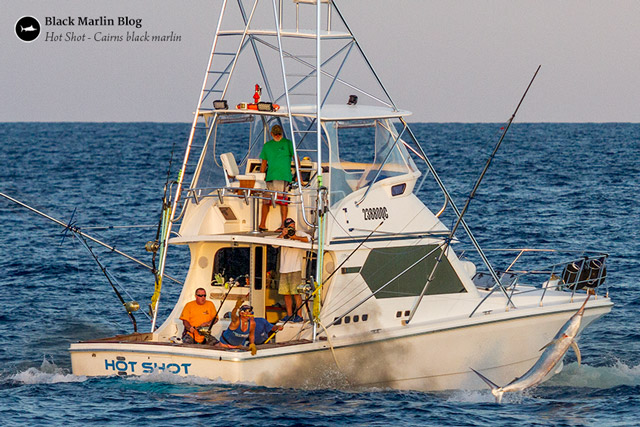 Capt. Matty Sanders and owner Laurie Smith are back in the north on Megumi. They had a top day yesterday with two fish that Matty put at 850 and 950 respectively.
Capt. Bobby Jones' Iceman fished out wide and went two from two on lures before returning to the Bank. Both were for angler Dan, from Tucson, Arizona (pic below).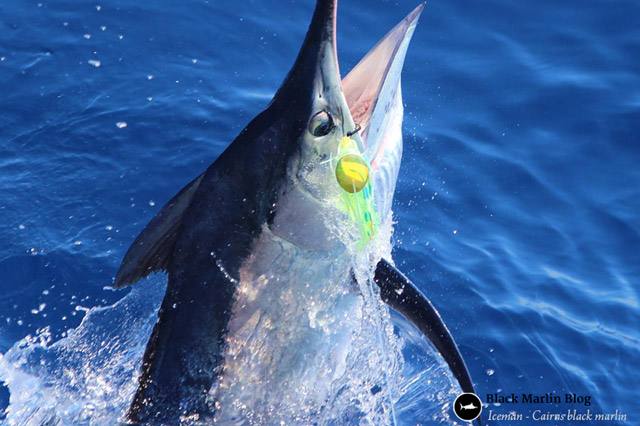 Capt. Tim Richardson's Tradition went 2 from 4 today with Terry and Kendall from Pensacola, Kendall caught her first and second ever marlin, while they unfortunately dropped nice one for Terry.
On KEKOA we went one from two with a second fish unfortunately jumping through the mainline on a big fish mid fight and cutting us off. Not often that you get to see that unfold on top of the water (pic below second fish splash in front of the first).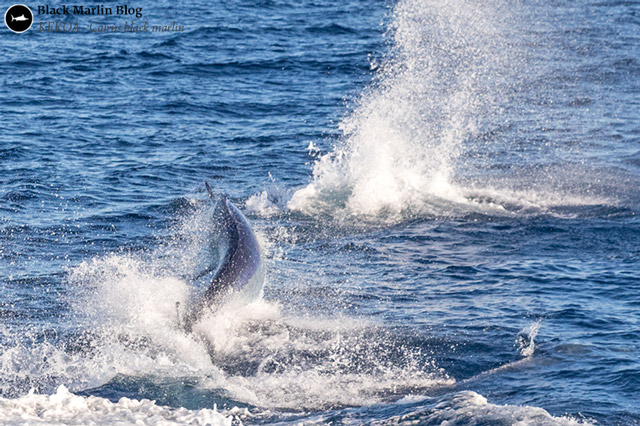 More to come I'm sure, but I will have to post this now before it 'run out' of internet again!