Updated as of 13 Jan: Jay Graham's Chaos (CGFC) was back at it again yesterday converting four more little blacks for tags and raising a whole lot more.  And Mooloolaba GFC boats likewise with Club Captain Jamie Brehrens reporting 2 from 2 on TakkaChee (photo at bottom) while Luna had another good day with 3 from 5.  Jamie said the weather has been great except for the n/e winds in the afternoon and there have been a few bigger fish (60kg among them.)
On the Gold Coast another blue this time on Capt. Craig "Sparra" Denham's Hot Shot as well as a 0 from 1 on the blacks.
——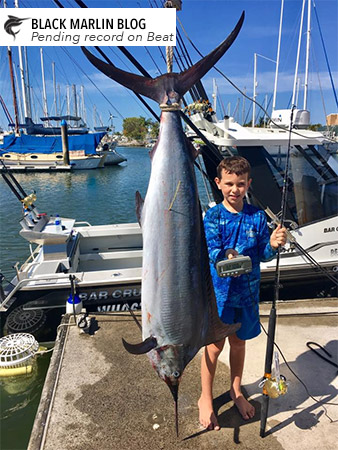 The sun is shining on anglers on the Sunshine Coast with a great run of light tackle black marlin over the last few days!
Sunshine Coast GFC club boats have been racking up the numbers with Chaos tagging 10 little blacks yesterday, followed by Reel Capture with 7 and Take Time with 6.
Chaos is on another roll having tagged 5 the day before (self DQing one from points).
And yet another small fry deserving congratulations for another great effort with  SCGFC's Ben Massurit on Beat weighing a pending Queensland and Australian small fry junior record black marlin at 32.7kg on 6kg line. Ben fought unassisted for an hour even while suffering sea sickness!  Well done Ben!
MGFC boats likewise getting in on the action. Michael Wrack's Wrack Off was holiday entertainment and then some for the kids Ethan and Chloe who each accounted for a marlin including 7 year old Chloe's first (well done Chloe!!) and two for 11 year old Ethan with the tally for the day 3 from 7 and a four dollies!
Other boats from MGFC recorded: 3 for Takkchee and some dollies, Big Wave Dave 2 blacks, Luna with 5 black and 4 dollies for Lauren!
Gold Coast
The Gold Coast didn't completely miss out (of course I don't hear all the reports) but there were more blues with Capt. Ross McCubbin on Reel Busy for the day yesterday releasing a 120kg blue for Craig (photo below).