Are you getting sick of hearing about the Sunshine Coast yet? Haha! I'm sure they're not sick of catching them – and catching them they still are!
Townsville Micro
But first something a little more unusual from Townsville. Brendan Lowe was jack fishing with Akwa Marine's David Hodge inside of Cape Cleveland in the shallows when David hooked a truly micro black marlin (David holding his catch in photo at top!).  The fish was released and Brendan tells me it swam off very well without knowing that fish of this size are pretty valuable for research. The scientists would like anglers to keep fish of this size for a study being done on age and growth.
Yes it is a black marlin (the sail confuses many but as Dr. Julian Pepperell has confirmed it is a black. They tend to have 'sails' at that size and grow into them so to speak). Dr. Julian says this fish is a few months old though it is possible to age them via their ear bones. But at a few months old is very likely the spawn on the big fish that were off Cairns only a month or two ago now. Very exciting!
From Dr. Julian: I'm guessing this one at maybe 3 months old. Sam Williams and I are super keen to get hold of a number of these little tackers for a definitive study of their early growth rates. Most anglers naturally like to let them go (they are so cute, after all) but saving them for science will really help our understanding of growth rates, which are possibly quite variable. Can also give clues as to whether or not there are other spawning times and places.
Thanks so much to Brendan for sharing the story and pic!
Sunshine Coast marlin mayhem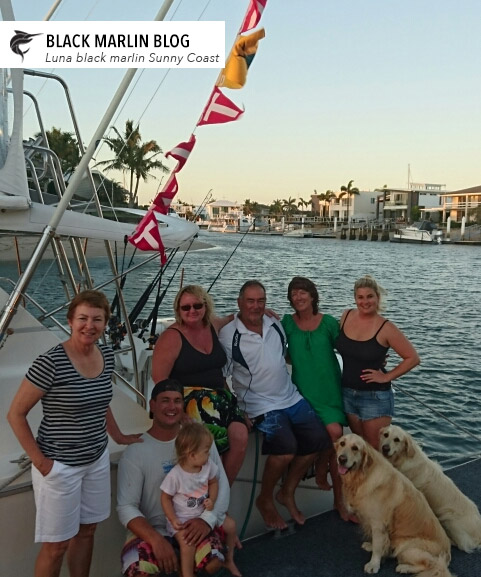 Mooloolaba GFC and Doulass family's Luna put some very happy ladies onto the marlin on Wednesday with a 9-6-5  and 4 dolphin fish. 3 blacks to Lauren as well as one each to Di Hance (QGFA Vice President) and Kay Fallon (Ribbons President) with that being Kay's first as an angler!  Nathan tells me after a great day on the water the local Dan Murphy's may be running very low on champers ;-)
Other boats in on the action included Wrack Off with 4 fish to young Ethan (go Ethan! Including one much bigger one), 4 to Ymer, Monster 2 and Big Wave Dave got a couple as well.  Photo at bottom from Mark Bird of Ethan in action on Wrack Off.  Mark has supplied quite a few of the marlin pics we've seen on the pages over the past few days thank you Mark! Great shots!
I don't have reports from yesterday yet (I guess some people have to go to work sometime…!) but I know that SCGFC's Never Home went 4 from 8 on Wednesday and am sure the rest of them were there catching them as well.
And a catch up from Mick on Big Unit who fished alongside the Sunny Coast boats earlier in the week for three tagged, one each to 12 yo Mikayla, 10 year old Jake, and Kempy from Take Time. They had another one bust off just out of reach of the tag,  from more than a dozen raised on the baits!