Sunshine Coast
More big number over the past few days fishing off the Sunshine Coast. Photo from David Granville above who one again was on board Reel Capture yesterday who went 7 from 9 including three double header raised within an hour with five of those six fish caught!!
(And video at bottom from David's last trip out on Reel Capture on Friday.)
Jay Graham's Chaos again raising the numbers with 8 from 19. David also tells me that Wakame went 8 from 11, and Kestelle 4 from 9.  Other club boats including Rob "Smithy" Smith's Capricorn released 2 yesterday as well as another 3 the day before while Beat released 2 and More Bills released 1 at Noosa and a wahoo on Sunday.
Shearwater was 2, Hellrazor 3-3-1 and Blade Runner with 2 on Monday.
On the Mooloolaba GFC side Jamie Behrens' Takkachee fished with 27.4 water yesterday with Jamie putting his better half Jenni onto a nice cooperative black. Jamie said the also raised 3 more but failed to connect.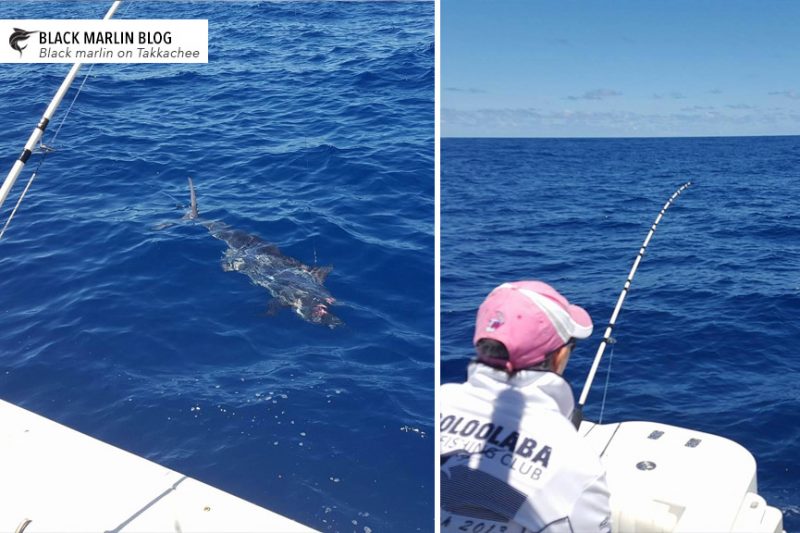 Gold Coast
Gold Coast is still struggling for their share of the light tackle action but Capt. Ross McCubbin's Lucky Strike found and release a 200 lb black with lots bait water up to 27 degrees and 3 knots of current on the shelf.