A great report from Darren Buttigieg who has just wrapped up another two weeks of fishing starting at Eden but spent most of the time in Bermagui.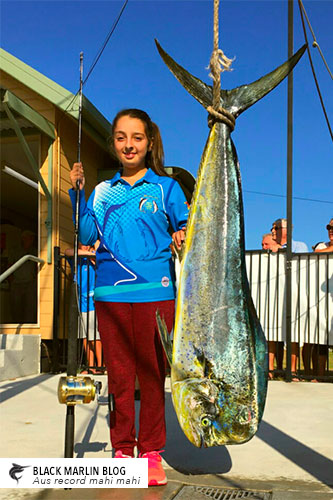 His 2017 south coast season started at Bermagui in late January at the Bluewater Classic coming in second for highest point scoring Tag and Release with daughter Makayla the highest point scoring junior capture with her latest Australian record – a 19kg dolphin fish – which brings her record haul now to 7 Australian records and 1 World record (photo right) – well done Mikayla!!
Darren says that while for the last 4 weeks the water colour has been good, and the temperature between 22 and 23.5 degrees, there is very little current yet and the fish haven't been in the numbers they were the last 2 years (read some of Darren's past report including 20-15-12 in a day last year here, here and here). Darren believes the best of the season down there is yet to come!
But despite this, he's once again had some awesome fishing on Happy Hour with his final few days rewarding him with a 8 from 10 Thursday following up from 5 from 5 the day before. He also had another day of 6 fish which overall gave him a total of 35 fish from 45 bites half of which were blacks between 70 and 140kg.
Most days they were catching anywhere upwards of 2 and the 8 fish day were all black marlin which is very rare for that far down the coast.
Darren says there were also a large number of mako's which is also uncommon for this time of the year!
NSW Interclub
It's not often that the NSW Interclub is relegated to the second post report but with Day 1 of the new format over (new format is 3 days fishing over one weekend, this weekend, with the Ladies' Day Monday), the fishing is less than inspiring with just the 28 billfish tags for the 120+ boat fleet.
Once again the blue marlin are providing much of the entertainment making up 10 of the tags. There was also just the one blue – a 126kg blue marlin – weighed by the team on Glorianna.  There were also 6 striped marlin and 5 black marlin tagged as well as 7 shortbill spearfish – a testament to the warm water!
Good luck to everyone out there again today!