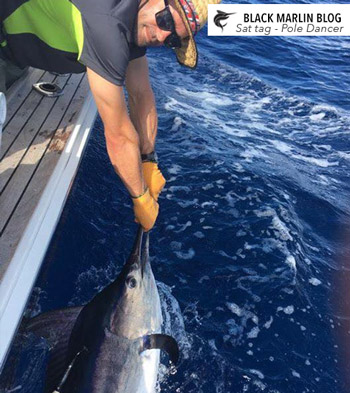 The Moreton Bay GFC hosted the Garmin "Back 2 Tangas 9" tournament at the club facilities on Moreton Island over the weekend (3-5 March).  Stellar conditions of 5-10 knots greeted the fleet of 33 boats, 92 senior male, 7 female and 8 juniors who fished the Friday to Saturday between the Gold Coast to northern Sunny Coast grounds.
Overall 102 fish were tagged or captured, with the breakdown being 51 black marlin, 1 blue marlin, 1 striped marlin and 1 sailfish as well as 46 tuna tagged or captured including and a 14kg mahi-mahi and 8kg wahoo.
Jay Graham's Chaos team continued the great numbers run they had all season converting 13 to take the win!
David "Tagpole" McMaster's Pole Dancer was second with 8 black marlin tags (including two Sat Tags as part of a QGFA research project) to put the Sunshine Coast teams in 1st & 2nd ahead of Mooloolaba GFC's Luna who took out 3rd with 7 marlin tags (and also self disqualified another).
Deano and Bryce Bartleson on One Way took home the Under 8m gong for Sunshine Coast GFC as well with Bryce also winning the Champion Junior award.
Club Captain Jamie Behrens also tells me that other MGFC boats fishing well included Bangalee who finished with 4 and Ymer also with 4.
Main results were:
Champion Tuna.  14.6kg. Scott Hodgkin
Champion Other Gamefish. 13.9kg. Rick Winsor
Champion Junior. Bryce Bartleson. 9050 pts
Runner up Junior. Trent Rooney, 6100 points
Champion Female. Leanne Kalpus. 3100 pts
Runner up Female. Aimee Brooks. 1500 pts
Champion Male. Mick Reed. 15100 pts
Runner up Male. Mathew Hubbard, 12100 pts
Champion MBGFC angler. Greg Capehorn   9150 pts
Champion boat. Chaos. 39200 points
Runner up boat. PoleDancer, 22250 points
3rd place boat. Luna, 20150 points
U8 m Runner up Boat – Aquaholic – 3050 pts
U8m champion Boat – One Way – 10650 pts
The committee would like to congratulate all anglers and crews who participated.  Special thanks to all of the Sponsors who supported the event.
Outside the comp
Capt. Robert "Smithy" Smith's Smithy Fishing Charters had a good weekend on charters with a 9-7-2 yesterday and a similar day the day before with five dollies as well. Smithy also tagged one through the week for regular and 91 years-young Edwin Martin from the US.  Great shot at top of Max's first marlin! I also saw that Mick Wrack on Wrack Off had another good day yesterday with Ethan tagging yet another and also got a second fish for Mitchell Behrens as well.
On the Gold Coast
While still missing the numbers they are seeing on the northern coast, some good action off the Goldy again on the weekend.  Capt. Ross McCubbin on Luck Strike caught a black and wahoo for dinner on a day out on Saturday (pic) while Capt. Craig "Sparra" Denham's Hot Shot had two from 6 on blacks on Friday and another black and stripe on Saturday.