Was good to see Capt. Nick Stanczyk back in Australia in the last couple of weeks (Nick did a season on the reef several years ago) from his homebase in swordfishing 'country' in Florida, in search of a Pacific blue marlin to complete his Billfish Royal Slam.
And complete it he did!  Nick sent me this report from his successful day on the Gold Coast with Capt. Brett Alty on Mistress. Huge congrats!!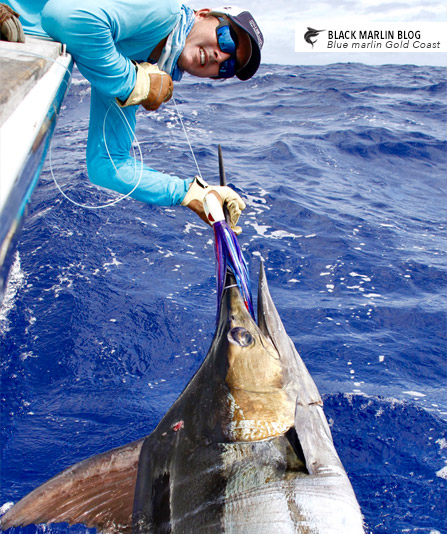 Nick reports; "It was always a lifetime goal of mine to catch the "Billfish Royal Slam". The Slam consists of catching one of each species including Atlantic sailfish, Atlantic blue marlin, white marlin, swordfish, spearfish, striped marlin, black marlin, Pacific blue marlin, and Pacific sailfish. I had caught all of them except a pacific blue marlin, even after a few failed attempts in Costa Rica.
I really don't catch many fish myself nowadays, as I get the same enjoyment seeing someone else catch them. (But) I still wanted the pacific blue marlin and since I'm currently in Australia it was the perfect opportunity.
The Alty family aboard Mistress Sportfishing Charters said I'd have a good shot with them while I was here. Capt Brett took us out with a couple of his friends early yesterday morning from Goldcoast, Queensland, Australia in search of that last fish.
By 7:30 am we had the lures out with our fingers crossed. The first couple hours passed pretty quick, and then I wondered if we were gonna get that shot. They told me the past couple weeks had been fair, most trips producing a bite, maybe two if your lucky. Back at home a lot of my swordfish trips are decided by one bite, so I knew the feeling. If you catch it you're a hero, if not, you're a zero. One thing in my favor was Brett brought his good luck dog "Jake". He said the lucky dog had only let him down one time.
Well at 10:15 am the left flat line went off. Seconds later a 250 lb blue marlin was shaking his head violently on the surface trying to throw the hook. I moved to the chair and Jeff and Jase cleared the other lines. Sara came up from nap time with her camera. The fish did some nice jumps way out and then sounded. A few minutes later she rose up again and did some thrashing on the surface. I was nervous the whole time, just praying the hook would stay in. The fish went deep one more time and then we started gaining steady.
After twenty minutes Brett backed us up to the leader, Jeff grabbed it and Jase put the tag in.
The Slam was complete!
Sara took a few nice pics boat side and then we released the blue. It was a strange feeling, the hunt was over. All those years wondering if and when I'd ever catch that blue marlin. We trolled the rest of the day for Sara to get a turn in the chair, but no more bites.
Big thanks to Capt Brett and everybody on the "Mistress" for making it happen!"