Fresh off reports that Exmouth's Eddy Lawler / Peak Sport Fishing had yet another hot day on the water Easter Sunday with a 13-9-5 black marlin, the challenge was on to see if East Coast crews could compete with such good fishing!
And happy to report they did!
Starting at the top, Gold and Sunshine Coast boats reported good numbers of blue marlin encounters with the top gong going to Dave McCallum's 23 foot Edencraft Unreal  (photo top) with a 7-6-5.
7-6-5 blue marlin Gold Coast
Dave said he fished the Point Lookout Canyons for a double hook up with the lures only in the water 20 mins successfully releasing one. Heading back to the same spot they soon god another.  And again on the same spot hooked up again but dropped him after clearing the spread. After a quiet mid-morning the fishing livened up on the tide change with bait and marlin on the sounder and got another on the shotgun.  While most other boats fishing left at 330, Dave hung in for the afternoon bite and was rewarded with a nice 250 kg model at 4 pm which took 45 mins to to the boat. The lures went out again  for another in quick succession about 100 kg making number 5 for the day – 3 for Aaron, 2 for Dave.
Dave says they probably could of squeezed one more in but the sun was on the horizon and a 36 mile run ahead! Still top day on the Goldy!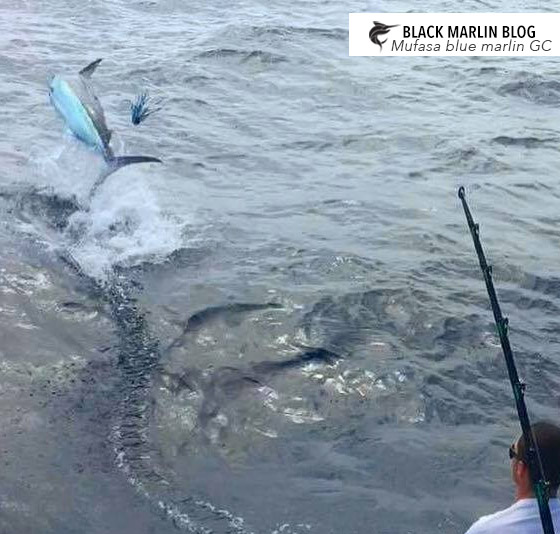 Other boats on the Gold Coast in on the action included Glanville Heydenrych's Mufasa who got three around dropping for swords.
And Capt. Craig "Sparra" Denham's Hot Shot who went two for two (biggest 500) around dropping for swords but also got the bonus sword! (pic below)
This sword was one of two recorded by the fleet in SEQ over the weekend.
The second (well, actually first) was caught on Ya Rat by Doug Farrow on Sunday off Cape Moreton (Redcliffe Pennisula GSFC) targeted daytime deepdrop on IGFA gear.
This is a great win crews for targeting the swords after the success in Victoria and Tassie over the recent 1-2 years. Now they've found them the next step will be looking for the bigger models!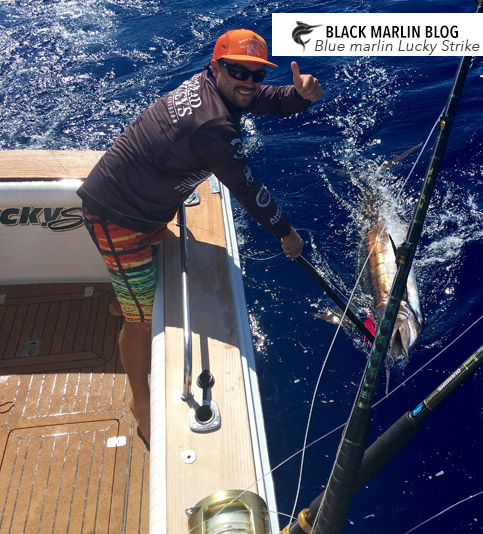 Plenty more seen (and missed!) both north and sound.
Another on the trailerboat side, Oceaneer released 3 on the Gold Coast yesterday while on the Sunshine Coast Raising Havoc went 2-1-1 with a blue for Marlise after a 4-3-0 the day before.
And Capt. Ross McCubbin's Lucky Strike also released this one for Ben Job on Sunday (GC).
And Jesse Hill fished with girlfriend Christie for a 1 from 4 blues on Saturday (unlucky loosing 2 to tackle malfunctions) and then followed up on Sunday with a 1 from 1. Photos below!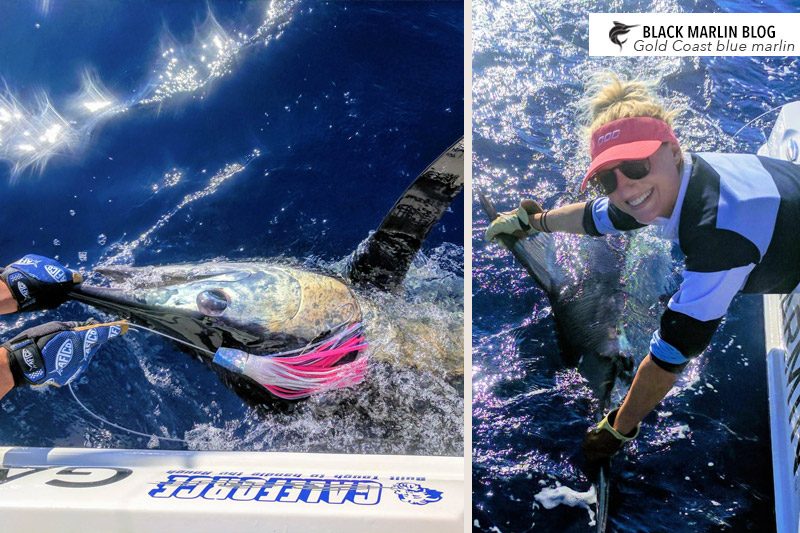 The Lee's family's Gun Runner also timed it right for Easter fun on the water off the Port of Gold which has been a tad disappointing in 2017.  But when its hot its hot!
5 from 5 stripes at Port
Teaser fishing all day Saturday Scott says they raised and switched all 5 striped marlin for the day.
Fishing up north in 23 degrees of water, with very little bait and just a trickle of current to the north they also stopped for an hour or so to fish the bottom and caught a couple of bar cod for dinner!
Scotty said the good water hung in for seemingly just the one day with boats out again Sunday reporting the water had gone off colour and not many fish between them!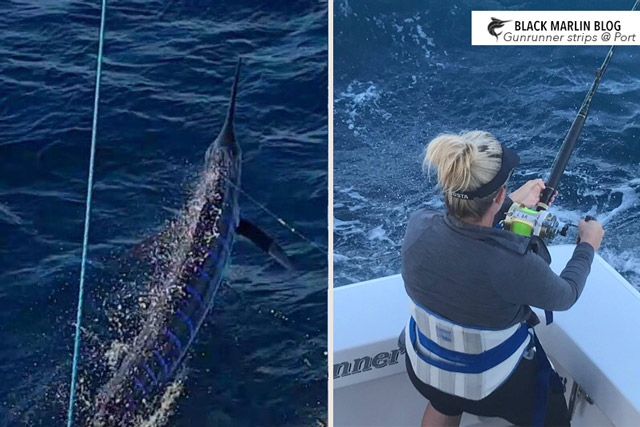 Last but certainly not least, Bermi continues to fire – more to come..!