Innisfail Winners
Capt. Chris "Sharky" Miles' team on Levante were too good on the final day adding 4 fish to their tally to take out the comp with 14 tags (2 sailfish, 12 blacks). Congrats to Sharky and team!
Wombino was runner up on 9 tags with the Under 7m category taken out by Miss Giddo.
Champion Male Angler Overall went to Ben Heath on Levante.
Champ Female went to Nina Whitmill on Wombino.
Charles tells me there were over 35 tags for the 10 boat fleet. A great result and great fishing! Thanks so much to Charles for keeping us up to date.
Check out the previous report for more results mid fishing.
Cairns Weekend Wrap Up
Lots of fish caught over the weekend. He's a quick wrap up of what I've heard so far – if you want to add your report, send it in!
Capt. Ross Finlayson on Top Shot also found the Cairns fish more finicky over the past few days. He went 1 from 6 Friday, and 1 from 3 Sunday, AND found the time to get out and catch them solo in his tinny on Saturday!
Kirsty and Vic Garrett onboard Smoke & Mirrors fished Friday and Saturday. Kristy said they went 2 from 5 blacks fishing the Fitzroy grounds Friday and thought they'd mix it up on Saturday and went to the wide grounds yesterday which was a ghost town. A good call as the fishing was on fire as they went 10-6-2 by 1pm. Kirsty said the fish were much bigger too! Photo of one of their fish from Friday below.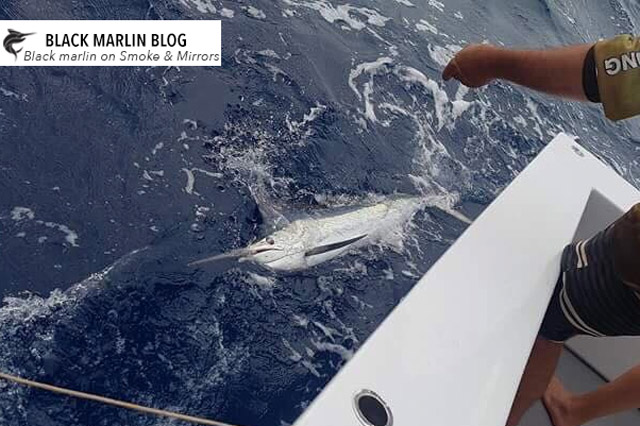 Rhys' Moore Great Northern went on Friday seeing 2 that didn't switch and followed up on Saturday with Reg on Duyfken with 4-4-3.
Luke and I also fished Friday and Sunday in our 19foot Grady Senshi for a 1 from 2 (sailfish and jumped off a black) and 2 from 3 blacks respectively. Photo below.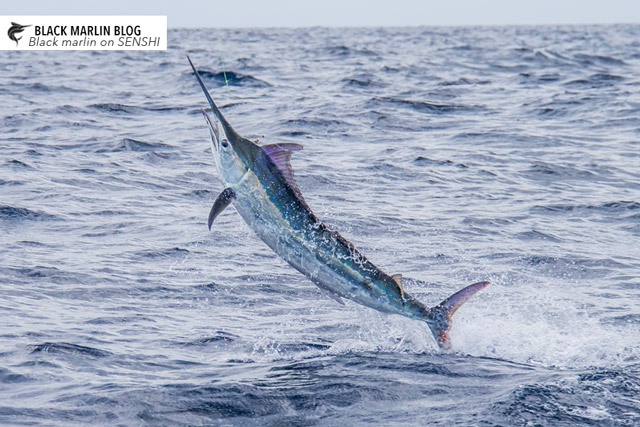 Jason Preece on Hammer went the same with 1 on Friday and 2 from 3 yesterday and got this mad shot of one of the fish mid 'flight'!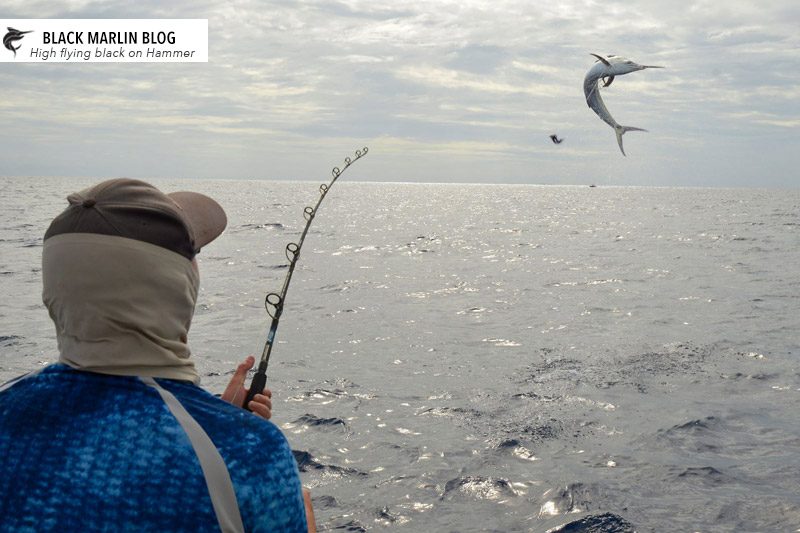 Marlin Brando (AKA Jason) found the Fitzroy grounds quiet yesterday (they were relatively!) and headed out managing his first for the season between Pixie and Oyster.
Capt. Haydon Bell and crew on Kanahoee spent a couple of days out at the sea mount and found a couple of little blacks on his way in yesterday as well.