Final results for the 2017 Mike Carney Toyota Townsville Billfish Challenge are in and many thanks to Renee for the report and for keeping us so well updated over the comp.
With only 1 fish separating four boats at the end of Day 3, it was always going to be a tight finish. But the team on OB1 were able to add a black and a sail early on the first sked to put them into the front, and adding a third tag later in the day (another sail) put them a fish clear and so it was only a nervous wait for them to cease fishing!  Congrats to the O'Brien Boats team and KEKOA's Capt. Luke Fallon who was fishing with them!
Mackay's Colborne Family on Emma Kate also added two tags for the day to give them the Runners-Up prize and another Mackay crew on Hardline also added two tags on the final day to give them the Champion Boat Under 7.5m award.
14 boat competed and there were 48 billfish tagged over all (made up of 19 sailfish and 29 black marlin)
Renee says that again this year, as always this tournament was a pleasure to run for the organising committee. Everyone who participated and that was around the event for the week had a fantastic time, with glamour weather conditions which had to be seen to be believed. The comradery between competing anglers and teams was uplifting throughout the whole event, especially during a year dedicated to the spirit of such a fun loving and kind hearted soul, Mike Carney.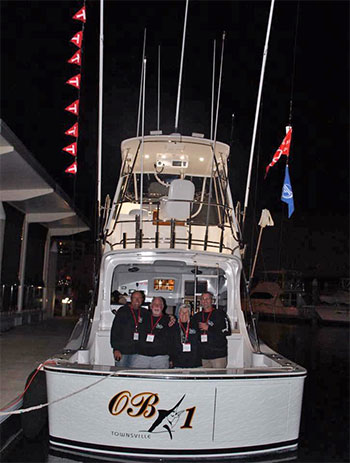 The organising committee would like to take this opportunity to once again thank all that participated and supported this event and we all hope to see everyone back again next year.
Final results:
Champion Team: OB1 (8 tags)
Champion Runner Up Team: Emma Kate (7 tags)
Champion Team Under 7.5m: Hardline (4 tags)
Champion Male Angler: Luke Fallon (OB1)
Champion Female: Val Obrien (OB1)
Champion Junior: Matthew Colborne (Emma Kate)
Pictured right the winning team on OB1
Hot in Cairns
And in the leadup to the Cairns Bluewater GFC Comp which kicks off on Wednesday night with the briefing at Fitzroy Island, Capt. Ross Finlayson's Top Shot has had another cracker of a day on Saturday to give teams hope of another very big comp. Ross put his first time marlin anglers Darren and Chris onto an awesome 8 from 13 black marlin!! Great fishing!
And around all the work they've been putting in preparing for the tournament on the committee, Sharon and Paul Poulter on Think Big fished both Saturday and Sunday for a 4-3-2 and 4-3-3 respectively.
Looking forward to another awesome comp!