Some notices today in the leadup to the big season!
First the small black marlin season – good fishing continues! And the Cairns Bluewater Billfish Tournament kicks off tonight at Fitzroy Island with fishing starting tomorrow. They have a massive 30 boat fleet entered so looking forward to some good fishing across the board! Stay tuned!
Upcoming Ladies Ribbons Tournament on December 2: The committee is on the lookout for boats available for charter for the comp.  If your boat is available, please email info@ribbons.or.au, or text to Kay at 0438330769 with boat name and very best price.
---
2017 Giant Black Marlin Season Availability
The 2017 big marlin season is fast approaching and if you're still yet to book your trip you'd better get in fast! Limited dates are available with members of the fleet (outlined below) and this list will be updated as I hear back from other members of the fleet. Links to the website so that you may contact directly:
Gameboat Availability
Kalira | Capt. Ashley Wallis
Key dates still available in October and November.
Hot Shot | Capt. Craig "Sparra" Denham
Dates available include October 15-19, November 5,6,7 and November 15-21.
Tradition | Capt. Tim Richardson
Availability for: Sept 20-30, Oct 8-15, 24 -31 and Nov 26 onwards Cairns to Lady Musgrave.
KEKOA | Capt. Luke Fallon
Heavy tackle is full. Some dates in September for light tackle.
Calypso | Capt. Tim Dean
Dates available for September 8-10, September 17-22, September 28-October 1, and November 20-25.
Moana II | Capt. Dan McCarthy
September 17-27, September 29 – October 6, October 15-17 and November 24 onwards.
Askari | Capt. Corey Hard
Limited dates mid-late November.
Zulu | Capt. Casey Dent
1-4 October – Port Douglas to Cooktown
16-18 November – ex Port Douglas
1 December onwards – availability ex. Port Douglas
Levante | Capt. Chris "Sharky" Miles
Limited dates late November – Contact us for options
---
 Mothership Availability
Emerald Lady
Early-mid September
Beluga X
Availability in November for Mother-shipping
Flying Fish
Availability as a mothership during the giant black marlin season ex-Port Douglas
South Pacific
11th Oct to 26th Oct 2017 and 2018.
---
The photo at top is one of my Photo Art Compositions from my online gallery at KellDallFall.com.
Epic CAIRNS MARLIN SEASON photo montage performance shirts featuring some of the big name boats who fish this wonderful fishery hooked for the "Late Bite" on Number 10 Ribbon Reef as the sun sets beside Lizard Island.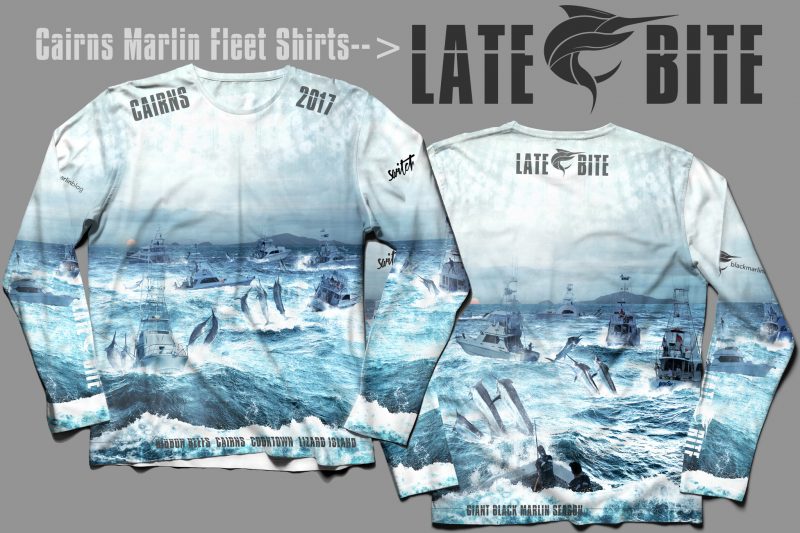 Featuring the professional marlin fleet including KEKOA, Top Shot, Askari, Viking, Kanahoee, Hot Shot, Bounty Hunter, Calypso, Tradition, Moana, Wild Turkey, Kalira, Amokura, Ultimate Lady and Levante. See if you can identify each boat!
These are actual action shots of boats hooked up and fighting taken by me (Kelly) and made into a photo print composite.
The shirts are performance UV protected all over prints with sizing XS to 4XL. (See the size chart for more information!) The shirts are cool, won't shrink or fade, have great UV protection and are quick drying – perfect for FISHING!!
This is a one of a kind shirt showcasing our fabulous fishery made by photo composite of my photos of the professional marlin fleet. Limited run only.
This is a limited run. Get your order in now.
The design (click to enlarge):
The fleet on hot fishing on Number 10 Ribbon Reef with the sun setting over Lizard Island in the background is the inspiration for this shirt which is called "Late Bite".

A couple of things to note:
Images are mockups only and while they are a very good representation of how the shirts will look, word placement and size and colour may vary slightly on the actual shirt and according to the size of shirt! See placement drawings for exact placement.
Shirts will be shipped mid-September (they will be printed after order). Pickup available for crew members in Cairns in mid-late September also.
Contact me also for any questions!