It's crossover month in Cairns which means that while we are still catching the juvie black marlin, the heavy tackle fish are starting to show up as well.
And show up they have~!
Port Hacking GFC members Darrell Mann, Glenn Parris and Todd Parris have been on board Capt. Bill Billson's Viking II for the bait run fishing to Cairns and went 5 from 5 marlin, 4 of which were yesterday at Jenny Louise including a very nice fish estimated at over the mark. (The fish was unfortunately not in a condition to release and was weighed coming in at 1117lbs.) First grander of the 2017 season – congratulations!
Jason on Marlin Brando also fished earlier in the week for his first trip out trying the heavy tackle going 0 from 1. on a fish he estimated at 150 pounds.  The fish followed the bait again right to be boat and grabbed it again but quickly lost interest after swimming with it for a few seconds. Photo of it following the bait in below.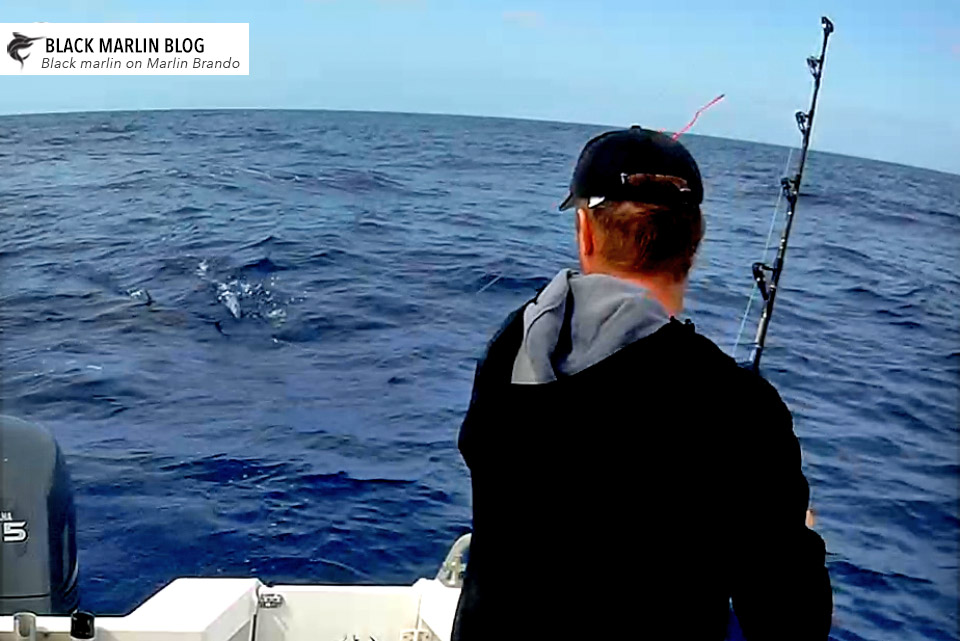 Jason said he ended up heading in early because the esky was full and he was getting sick of dolphin fish every few minutes – the biggest fish he had on the marlin lines was a 43 pound Spanish mackerel.
There have been a few other boats fishing and catching the odd heavy tackle fish and with more boats fishing from this week we can expect to hear more reports coming in.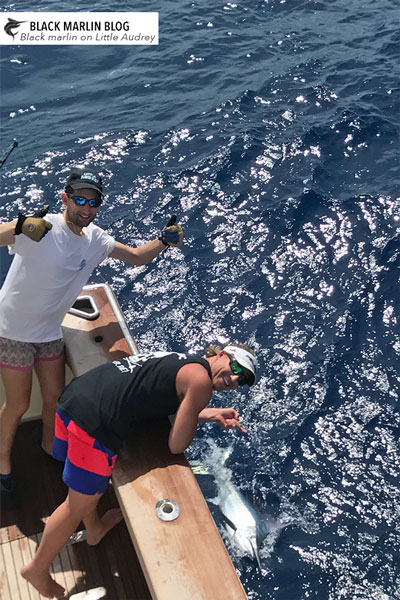 Meanwhile, weather permitting there are still light tackle fish being caught (and missed). Capt. Daniel Carlson's Little Audrey arrived at the Fitzroy Grounds at midday on  Thursday and went 4 from 6 in 3 hours. including catching Cassie Klien her first marlin (Capt Daniel Klien's mum).
And Paul and Sharon Poulter on Think Big fished the weekend for one from many. Paul says that at one point on Saturday they had 1 marlin screaming off to the horizon with the bait in its mouth and 2 of its buddies swimming alongside the boat with no conversion. Sunday was more quiet on the marlin front but there were plenty of mixed tuna and mackerel around and got some good heavy tackle baits and some sashimi tuna. (Photo at top.)

SEQ: Meanwhile from the Sunshine Coast, MGFC Club Captin Jamie Behrens went for a run out wide off Moloolaba with Ben Stasiak and AJ Wright today on Ymer. They tagged a large stripe marlin with Jamie on the rod. Likewise on Filthy, they went south and were able to tag a stripe marlin for Filthy's owner Dave Morton. Water was 21 to 23 degrees.