Cairns Marlin Season
While reports are few and far between from the reef today, Capt. Corey Hard on Askari continues yet another incredible run on the reef.  One week into his big Dreamin' On adventure, he has notched up some incredible fishing.  Corey tells me as of yesterday's first week mark, he is on 27 fish for the week adding 14 marlin from 23 bites in the last four days.
As Corey says, you couldn't ask for a better way to start a big trip with great friends, great fun and great fishing.  Already the boat's season total rips past the half century and is at 56 from 26 days heavy tackle fishing. Safe to say Askari is on fire ?.
Capt. Luke Fallon's KEKOA also added another two marlin yesterday both to Jenifer who is ready for her turn at a big one now (photo).

Whitsundays 'Light' Tackle
Lynette Robb fished the Whitsundays Light Tackle Tournament in her first tournament since moving north, in her new Haine 19R and tagged a much bigger model than expected yesterday. Lynette said she fought the fish that they estimated at 750lbs + in 60m of water for 2.5hrs on the 10kg tackle before getting the tag in boatside. Two of those hours were without gimble and harness kindly brought to them by the team on Topless. Photos at top!
Gold Coast blues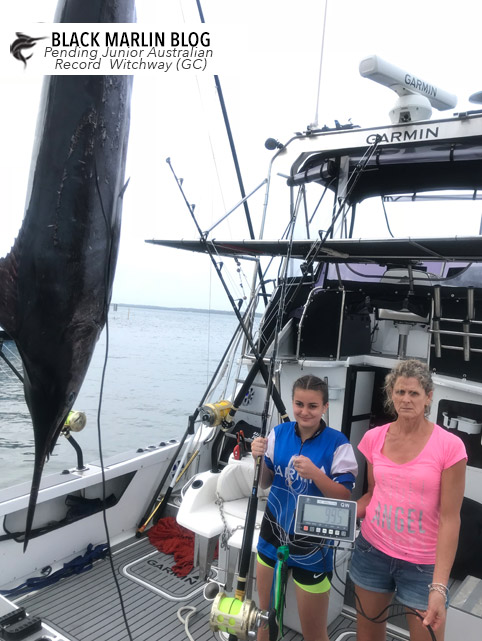 And the Gold Coast run of blues continues with a pending Australian Junior Record for Bree Thomsen on Team Garmin's Witchway yesterday off the Gold Coast.  The fish weighed 99.5kg and fought for 50min on 37kg line class!  Score for the day was 4-3-2 also landing a massive 80-90kg yellowfin.
Huge congrats to Bree!
Capt. Glanville Heydenrych's Mufasa also into the fish going 2 from 5 starting the day with a double header.