It certainly has been a big fish season on the reef thus far and as we approach the Lizard Island Black Marlin Classic which starts on Sunday, more boats from both the professional and private fleet make their way north.
Jay Edwards is fishing on the Absolute again with owners Pete and Sheridan Yates as well as Brenton from Hamilton in the lead up to Lizard.  Jay tells me they kicked off their 2017 account with 1 from 1 on a 600 at the death (lines in) on Sunday. Then followed up yesterday with an awesome day on the water with 4 at (in this order) 900, 700, 500 and 200lbs.
Jay says that Pete is on his L (learner) plates up here heavy tackle captaining and is pretty happy with his 2 days so far.  As you would!
Capt. Tim Dean tells me a story of giant black marlin yesterday on Calypso too. Tim says that he's heard the recent stories of giants but he's heard it all before too. Until yesterday. Tim says they had a fish on which he thought did not exist, true giant.  Unfortunately they lost her to fight again.
But they caught another big one Tim put at 950 and a 300lb-er as well.  Also had a few more bites but the day was with the big one they lost.  Nothing else mattered.
On Capt. Luke Fallon's KEKOA we also released two including a nice one and an early mark home, which put us on 9 fish for the 5 day trip and some real good ones there 1100, 900, 550 for Phil and an 800 and five smaller models for Jennifer who were both an absolute pleasure to fish with. Below a picture of the bite from yesterday. I got a nice sequence of it which I will share soon. Back out today.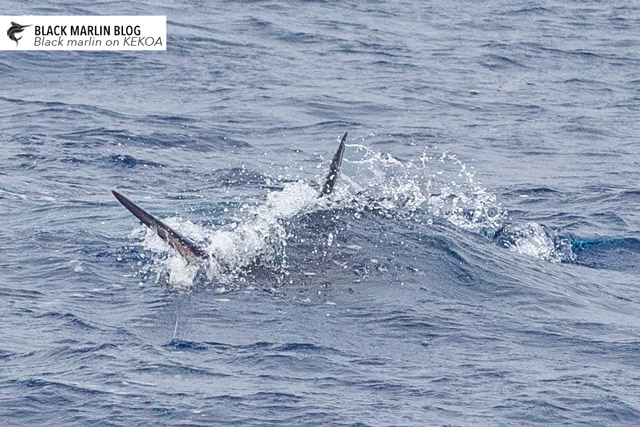 Capt. Adam Jordan's Iona II also caught another two yesterday at 300lb and 450lbs. Pic of yesterday's fish as well as a shot Adam sent me from the top of Lizard Island (Cook's Look) down on the fleet from the other day. Sorry the marlin photo is small but I think the email resized it :D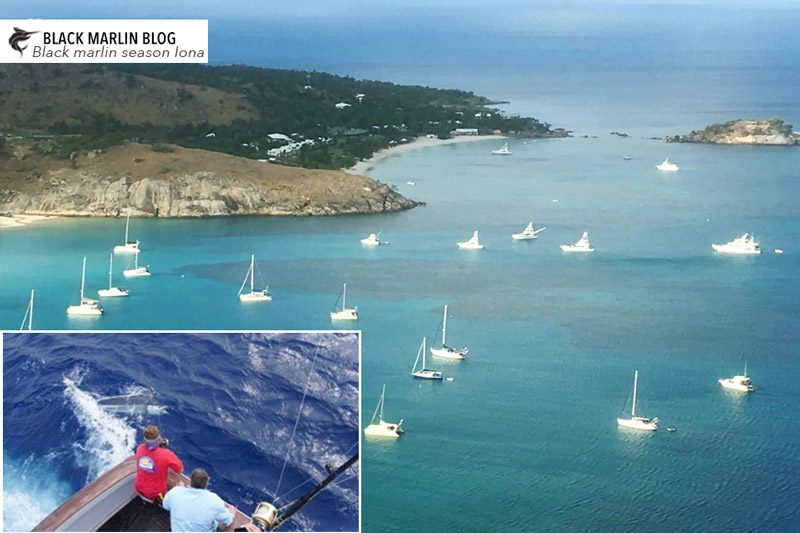 And Capt. Craig "Sparra" Denham's Hot Shot also went 2 from 3 with fish in the 250-300 range and missed a bigger one. (Photos at top).
Updated: report from Tony on Hellraiser who says that internet has made it tough for them to get in touch but that they've been doing pretty much a fish a day for ten days to 600lbs.
South off Cairns Jason on Marlin Brando reports it was quiet for them on marlin on Sunday but released a large sail at Opal Reef (pic).