South East Queensland is one fire (details below) but if you thought this fishing was hot, word from Capt. Eddy Lawler's Peak Sport Fishing of yet another amazing day on the water there yesterday recording a 14-13-11 blue marlin as well as 2-2-1 black marlin!!! Exmouth running hot!!!
Back to the east coast: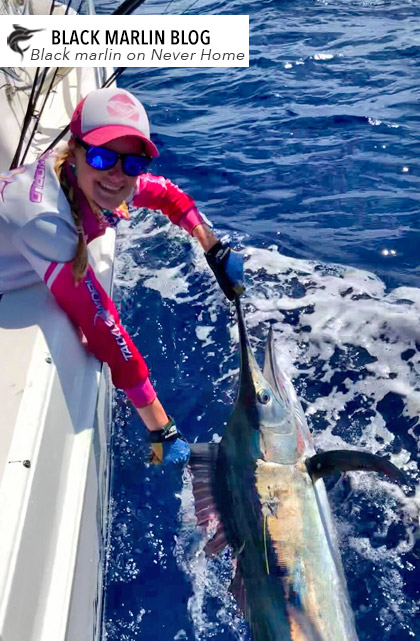 Both blacks and blues entertaining anglers from Noosa in the north to the Gold Coast fleet. Sunshine Coast GFC's club fleet were in on the action with Daniel Barker's Raising Havoc 3 from 5 heavy tackle on Friday (2 blues and a stripe). They switched over to light tackle yesterday for a 8-5-3 on the little blacks to back it up.  Kourtney and Alex Fenwick on Never Home fished nearby yesterday as well for 8-4-2 on the blacks and raising a few sails that wouldn't eat (photo right thank you Kourtney!)
And Craig McCulloch's Reel Capture and Jay Graham's Chaos excelled on the conversions with a 5 from 5 (4 blacks and a sail) and 4 from 4  (all blacks) respectively! David Granville was on Reel Capture and snapped the great action shot at top!
Also fishing heavy, Daniel Couchman's Smells Fishy was 3-3-2 on blues and a 16kg dolly while Outside Edge was also 2 from 5 blues.
Down to the Gold Coast many foregoing the haul out to the edge in favour of the blacks in close. Ryan Goding's Mojo released 8 over the weekend although Ryan said he would have seen over 30 fish in total. His stats were 13-8-4 Friday, 6-2-2 Saturday and 10-8-2 yesterday. Ryan also managed to get a tag out of a fish that was previously tagged so we look forward to hearing about that one's adventures as well!
Capt. Glanville Heyderych's Mufasa had an awesome day on the water Saturday going 6 from 6 on the little blacks. Glanville said they tried heavy tackle Friday and without luck on the blues although they got 4 solid dolphin fish and a shark that crash tackled the short rigger like it owed it money! Having heard some good reports they decided to go light on Saturday working away from the crowds to find themself a nice patch of fish and pulled the 6 off on both lures and live baits!
A montage of shots below!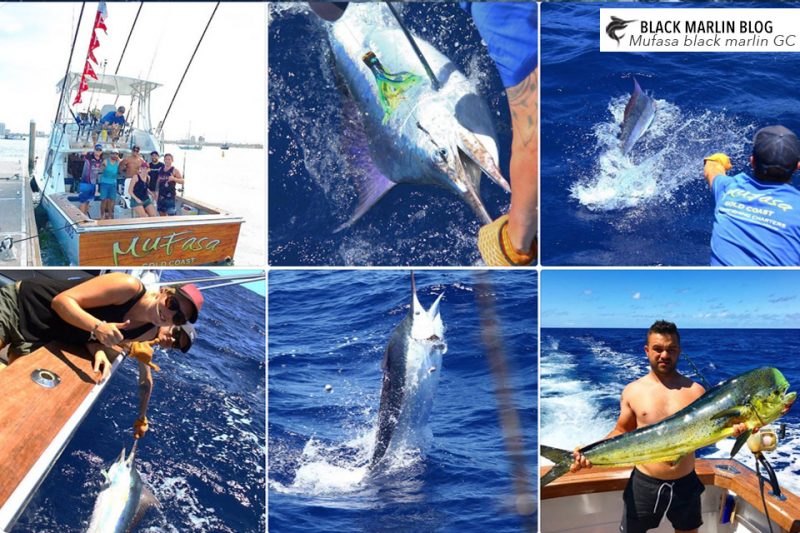 Capt. Craig "Sparra" Denham on Hot Shot also ventured out yesterday to follow up from his success earlier in the week for 2 from 2.
And then to the south, doing a boat delivery and trolling lures (as you do!) Peter Jenyns' reports a blue marlin east of Coffs from his client's Nordhavn 68 on their way to Sydney! Added degree of difficulty towing a Boston Whaler and avoiding several ships that materialised on hookup!