More great reports from SEQ including another hot day on the water from Capt. Glanville Heydenrych's Mufasa who added another 5 from 5 black marlin to their tally yesterday. Glanville reports the fish were caught again on an mix of lures and bait, and that there are lots of fish marking up and solid amounts of bait and looks like it may very well be a bumper this season.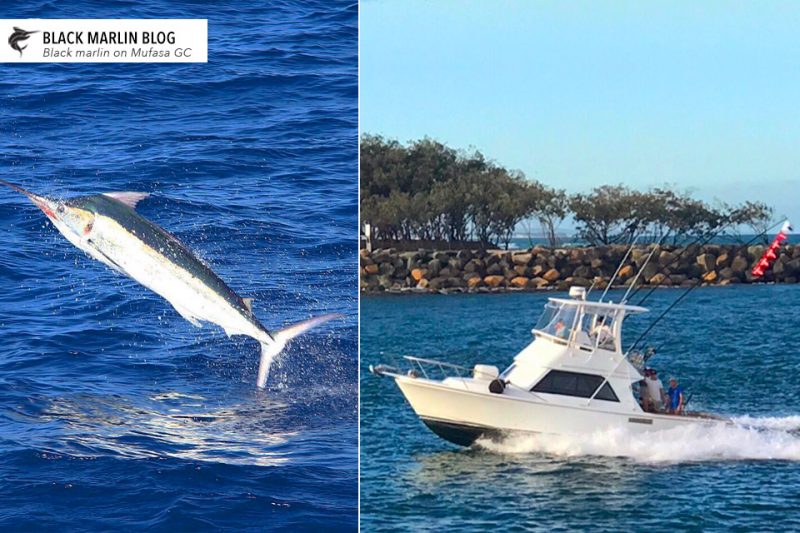 And David Trask reported from Australia's newest game club, the Newport Game Fish Club with members fishing its QGFA all ports on Saturday and Sunday (thank you David for the great write up too!). And with great weather they had a big contingent of its membership on the water. Big Business had a busy Saturday with 4 blue marlin tagged off Cape Moreton and with the vermin bugging everyone between bites the crew was kept busy all day. The peak of the action was around lunch time with one "pack" attack yielding 3 bites that turned into a double hook up while a 4th fish was busy attacking the bridge teasers and swallowed the skirts off the lure for its troubles.
Seagull also had a busy day with a quad hookup on 50kg yellowfin landing all four but no luck on the blues after jumping 2 good fish off.  Full Noise went 2-2-0 busting a good blue off meters from the tag pole after a 3 hour fight and R Ya Wet Yet had a busy day with 1 fish tagged from 3 bites (pic at top). There were also a lot of dolphin fish around which is obviously what the blues were feeding on with Release recording 9 for the day but only 1 blue.
The light tackle fish were firing too with Spartacus recording 3 blacks all around 20kg from 7 bites and other boats showing no luck with multiple bites being recorded.
Sunday started out good again for Big Business with a fish 2 mins after lines in with 1 striped marlin tagged shortly after, and 10 mins later a blue that jumped back at the boat and spat the lure to win its freedom.  The day slowed a bit from there with a good bite in the afternoon on the run to the tide change that saw multiple bites and hook ups from the other boats still fishing at the shelf. Seagull had a great afternoon with 2 fish (1 stripe 1 blue) from 5 bites in quick succession.
Ya Rat also had a blast on the afternoon bite on Sunday with 2 fish tagged but and incredible series of 4 bites within 15 minutes with the usual clumsy blue bite missing the hooks.
Teaser had a shocker on Sunday with 8-7-2 on billfish, one fish lost after a dolphin touched their main line, another blue lost about 50 metres under the boat and a host of other jump offs – to finally tag a blue around 400 after they decided to call it a day and troll home and then a little black on the light tackle grounds.
The light tackle fish fired again on Sunday with Seahawk joining the score board with 2 blacks from 3 bites while other boats (who will remain nameless) had shockers recording 9 bites before finally landing a tag.
---
On the Gold Coast again, and keeping in this theme for what is becoming a regular 'feature', the roast: Word is that a certain PE teacher was lessoned by the black marlin over the weekend going 0 from 15 light tackle on circle hooks.  Further compounding his woes, while lamenting his bad luck and eating a banana he threw the skin over board and hooked it up on the long rigger and sprung into action thinking it was a fish! :-)
---
And up at Weipa, Ben "Notso" Bright reporting there is still plenty of good fishing up there. On his boat Last Cast, with partner Theona, he went 3 from 4 on sails yesterday and saw a pod of free feeders – very cool sight.  Ben said there are also some XL longtails around too.  Other club boats have likewise been racking up the numbers over recent days with Linda and Duane Jay's Get n Any hitting 100 tags for the season on Sunday adding 10 more sails. Also on Sunday Darryl French on Wine Down tagged 7 and Quinton Small on Justeasin tagged 2.
---
And its the time of the year when the Cairns season recaps start to come through and there are two great ones to share today!
Bounty Hunter 2017 season highlights
By Tim Bidy
---
12 days on the reef in pictures by Charlie Levine at Fishtrack