The hot start to the summer season in SEQ continues with boats enjoying great days on the water in the leadup to Xmas!
Yesterday Brad Dobinson's Special K fished out of Mooloolaba for 6-5-3 blue marlin on the shelf as well as a couple of solid dolphin fish. Brad said they couldn't find any little blacks but who can compain about 3 blues?  Among the fish were a double header and Brad said they also  got pack attacked by spearfish which had a go at everything in the spread but hooked nothing.  Two of the other blues raised were proper ones who proved that they don't grow big by being stupid!
Likewise Sunshine Coast GFC's Neville Martens on Shearwater went 2 from 6 blues with 5 of the bites before 10am!  Neville said one of the fish was a nice one at 300lbs+. They jumped the 1st 4 off on very soft and weird bites but luckily the last 2 stuck.  Photo of the two at top.
On the light tackle William Martin on Oatie was mackerel fishing for a 2-2-1 black marlin and home by 10:30!  While Robert "Smithy" Smith reports Steve Venn on Preposterous went 9-7-6 while on Capricorn he also fit one in around the usual program! Updated for today: Smithy added another 9-8-5 on blacks in the 15-70kg range as well as three good dolphin fish today.
Now returning to our roasting yesterday, I'm told the team redeemed themselves by switching vessels Monday for 6-6-3 which should of been 6-6-5 missing 2 at the tag pole with only 2 on board!  But kudos for fish raised too for final stats over the three days 21-14-3.  That's a lot of fish and proving there are a lot around with others reporting them hard to hook as well!
And from Fraser, after his success on fly the weekend before Michael Umback put his daughter  8 year old Sara onto her first black marlin going 2 from 3 on lures. Michael said overall a lot quieter than the weekend before but Sarah love it and there was no way she was giving dad a go! (photo below!) Well done Sara!!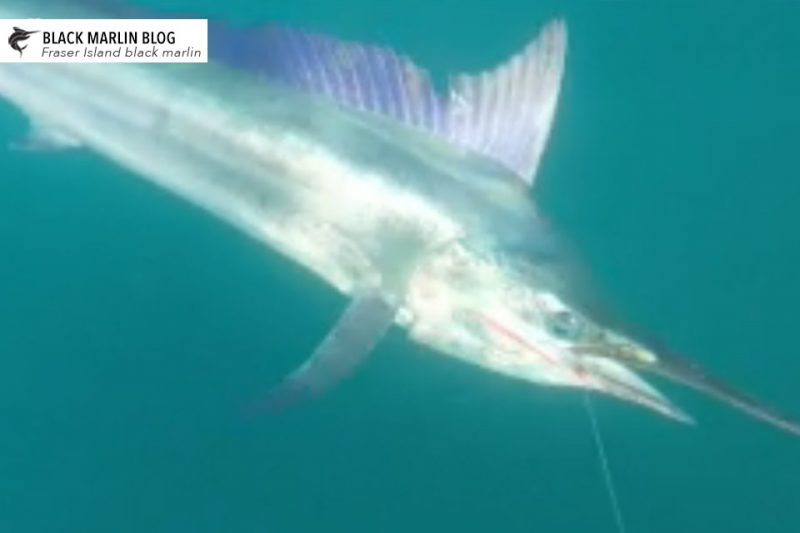 It's been a report a day for SEQ this week so if you are looking to head out, be sure to check out the previous two reports as well!