Updated April 23
The Gold Coast is still firing with Capt. Simon Carosi on Assegai reporting good numbers for the fleet. They went 2 from 5 while Bob Jones' Merlin Bob had 10 bites for 5, Graham McCloy's Caboom 4 from 6, Capt. Bill Billson's Viking 3 from 7 and  Capt. Glanville Heydenrych's Mufasa 3 from 4 yesterday!
Great fishing also off Port Hacking for PHGFC's Dog House on Tuesday who went two from two on blue marlin with a 203kg and 193kg fish!
Exmouth: Week 3 – Report from Adam Cottrell Sea Force Coral Bay. Adam reports currents have been screaming all week and while they chartered 4 days this past week they only manage about 5 hours of trolling going 4-3-2 black marlin.  Out of the norm for Coral Bay they also cleaned up on yellowfin and big eye tuna each day up to about 20kg and seeing more 50kg+ models schooling on the back of the reef. In 5 Years of fishing Coral Bay Adam says he has not seen tuna of this size or number.
Adam also sends a delayed report from fishing GAMEX in March with high expectations after taking out Marlin and Combined in the October Billfish Bonanza. But the size and quality of the field was something else with 50+ boats including crews from America, China and New Zealand. They tagged a nice 120kg blue just 20 miles out of Coral Bay on the way up with just Adam and crewman 2 up on the 50 footer. During the comp they only managed 5 tags over the 5 days we fished (missed last days fishing due to raw water pump failure) mostly fishing heavier tackle for blues although not many around until the last 2 days. After only raising small fish they changed the setup and switch baited on 10kg spin, which worked much better and was much more fun having their chances going 29-15-5 for the 5 days and raising 11 fish on the afternoon of the 5 day alone, but the little fish did not want to stay hooked.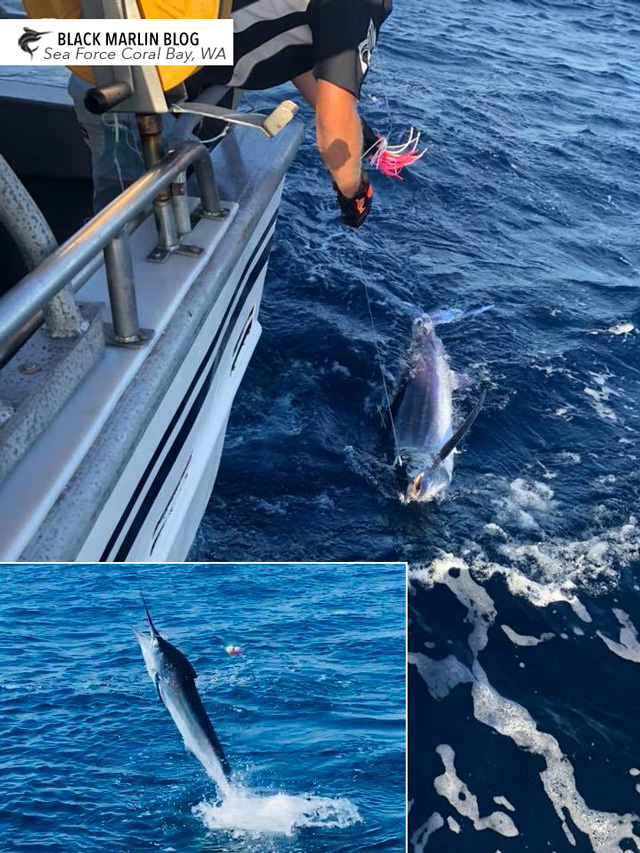 ---
Previously:
Cairns has reported its first juvie black of the season!
Dan Kelly from Cairns Reef Fishing Charters fishing from Cairns aboard the Blue Whaler Saturday released a sub 10kg model. (Photo below) There have already been a few sightings in Townsville as well so fingers crossed they do show up early for a big season ahead!
While some the weather on the Gold Coast has been very much less than ordinary, the fishing has been great! It's blue marlin time of year and boats have reported good numbers.
Capt. Simon Carosi on Assegai fresh back in the water from a repower fished Monday and Friday last week,  and picked the glam weather days catching 3 from 5 blues up to 350lbs. Simon said they also missed a few stripes.
Capt. Ross McCubbin's Lucky Strike fished the last 3 days with Micah Adams on deck. Ross said they went 3-1-0 on Friday and 2-2-2 both Saturday and Sunday with a stripe and a blue both days in very ordinary conditions. All fish caught for marlin virgins. Some hot shots at top from Micah.
Mooloolaba Garmin Billfish Bonanza
Overall 16 teams recorded 57 strikes, 51 hookups, 17 tag/ captures which were made up of 9 black marlin, 3 sailfish, 1 longtail tuna, 2 mahi mahi, 1 spanish mackerel and 1 wahoo.
Day 1 brought in most of the fish with 8 black marlin, 2 sailfish tags as well as one dolphin fish weighed at 12.15kg as well as a Spanish at 9.65 kg. Day 2 the weather made the fishing tough!
Champion light tackle angler- Peter Mintzas
Champion heavy tackle angler- not awarded
Champion other species- Sarah Postan
Champion Male Angler – Peter Mintzas
Champion female Angler -Sarah Postan
Champion Junior- Bryce Bartelson
Champion Runner up Junior – Ethan Wrack
Champion over 7m – Release
Champion Under 7 m – Takkachee
Champion MGFC boat – Takkachee
First billfish tagged day 1 – Troy Tinsley
Last billfish tagged Day 1 – Peter Distel
First billfish tagged day 2 – Peter Mintzas
Last billfish tagged Day 2 – Richard Pozzey
Early entry Draw – Infinity
Teams Trophy – Pole Dancer & Wrack Off