Capt. Brett Alty's Mistress wracking up more big numbers at Fraser yesterday with 7 from 11 including a third successful double header.  This puts them on 18 from 25 in just three days of fishing.
David "Tagpole" McMaster's Pole Dancer went 4 from 7 (3 blues, 1 stripe), Capt. Simon Carosi's Assegai was 2 from many and Brad Dobbin's Special K 2 from 6. A couple of trailer boat also all raised and or caught multiple fish. Thanks Tagpole for the numbers!
(See yesterday's report for numbers from the fleet also.)
Rick O'Ferral (Coffs) sent me a catch up report from one of the members of their new northern NSW fishing group (North Coast Big Game Anglers) who took his trailer boat up to fish off Fraser Island last weekend. He was fishing a few miles north of Mistress along just a 1-mile stretch:
Skipper Andrew McLennan and crew "Red" Smith from the North Coast Big Game Anglers group took his boat On Strike north to Fraser Island over the weekend and after going 0-3 on blue marlin from weak bites on Friday, went back to the top edge of the shelf off Fraser again on Saturday and got into a red hot bite, going 3 from 6, all in within a mile of each other. There blues were biting hard, running hard, and even after spitting a lure, would turn and run straight back into the pattern and hit the same lure again as it was wound back.
They never had to wait more than 15 minutes before raising a fish on both days that they were fishing, and had their first strike on Friday only 10 minutes after setting up their spread.
The biggest of the three fish tagged was estimated aged at 180kg, and gave then a very hard time for 90 minutes, having to be planed up several times and diving back down to 200 or so metres each time.
When they finally got it alongside and tagged, Andrew noticed that the fish had a couple of stainless wires protruding from its shoulder, looking for all the world like the leftover anchor from an old satellite tag!
Cairns
Capt. Ashley Matthews Reel Easy fished up to Cairns from Airlie for turn around and their first heavy tackle trip departing tomorrow. Ash said they bait fished on the way up with some mates from Airlie with some fishing in between and got a 200lber Saturday. Yesterday they had 6 bites and caught 3 blacks 250, 450 and 600 as well as a 100lb sail!
And Capt. Brett Goetze's Amokura started a new trip with a mid ranger on Sunday up the top and then added two from two yesterday. Capt. Tim Richardson's Tradition also released one.
And Capt. Adam Jordan on Iona II was back in on changeover after his last trip and also reports a few bites yesterday. They missed one on a lure and then put this one at 500lbs 16 year old Deacon Stone from Port Macquarie. Video from a fish chasing the 50lb record for 14 year old Patrick Dwyer.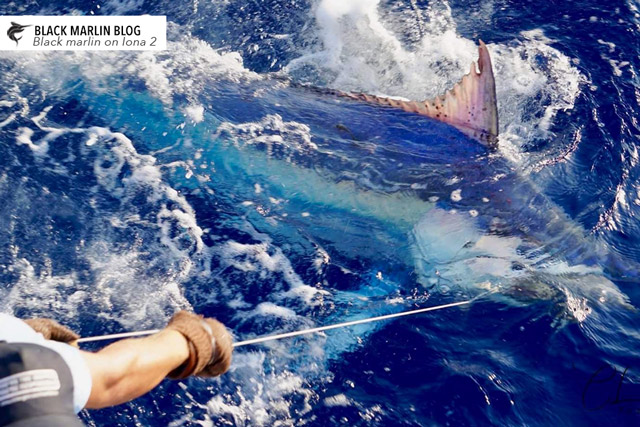 Otherwise, reports have been a bit scarce from the fleet!