Another top big fish day north of Cairns with big fish both caught, and fought and lost.
First a catch up report from Capt. Steve Ahlers' Hellraiser from Sunday's fishing as well as photos from Tony on deck at top and below.  They added three on Sunday including this big fish.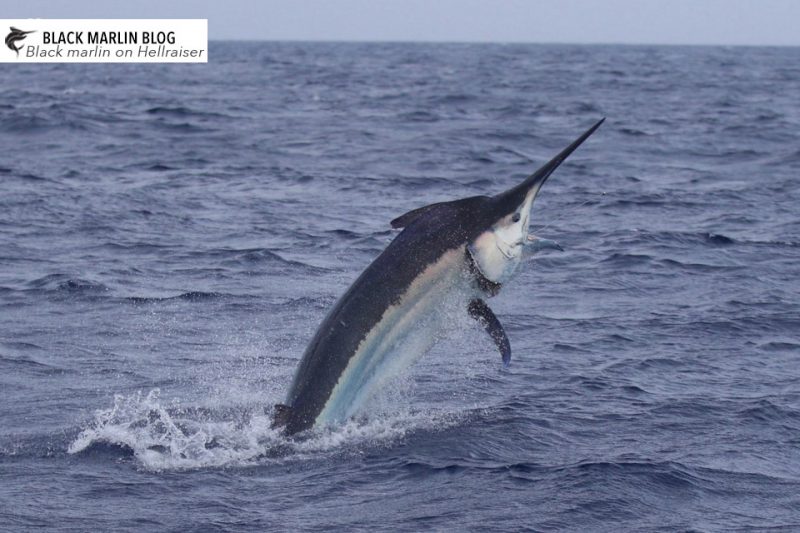 Outside the comp, Capt. Luke Fallon's KEKOA had another great day yesterday with another 4 blacks released to 800lbs for Bart on his final day on the reef.  That put him on 10 fish solo for his trip including some nice ones at 450, 500, 800 and 850lbs. Photo from Capt. Luke's tower of the day before's fish below.
Capt. Tim Dean's Calypso also had a big day releasing a big fish for Vince yesterday. Tim they also hooked and fought a second big fish but lost it before catching another two later in the day.
Second day running Capt. Adam Jordan's Iona II had a tussle with a real big fish, unfortunately chafing the leader through after an hour and a half. They went 2 from 3 for the day.
And another having a monster fight with a big fish, Capt. Tim Richardson's Tradition who spent over 4 hours fighting a big fish into the dark last night.
Lizard Island Black Marlin Classic
The results for day one were 12 releases among the 14 boast with Amokura leading on 3 to Absolute on countback with 3,  Blacklisted and Zulu on 2 and Ultimate Lady (welcome back Tom!) and Absolut (different boat) on 1.
Amanda on Zulu tells me that Day 2 was a slower day overall for the tournament fleet.
Absolute added another tag this afternoon putting them on 4 fish. Zulu also released 2 on Day 2 to put them on 4 fish behind Absolute on count back. Capt. Steve "Hoggy" Hogarth's Kestelle released the big fish of the day with an estimated 1200lb+ monster at around 9pm after a 4+ hour fight. A few other tags recorded. Will update again when I hear!
Updated: 7 fish for the tournament fleet yesterday.  Other boats adding fish including Absolute, Althaldo, Moana and The Outlaw.  The big fish for the tourney fleet for Day 2 was a 900lb-er for Josh Eggins on Althaldo. Kestelle reports catching the fish Capt. Hoggy put at 1200lbs but they disqualified it for tournament purposes.