Cairns marlin season
Capt. Luke Fallon's KEKOA saw his french team from New Caledonia off on a high adding another four fish on the last day of the trip including a real big one he put at 950lbs.
Capt. Tim Richardson's Tradition reports a 300 for Curtis and a 900lb-er for Harmon which his first big fish and a wahoo. Tim says the boys are back with him on the reef for the second time and regularly fish with him and Garrett on the Chaser in the DR.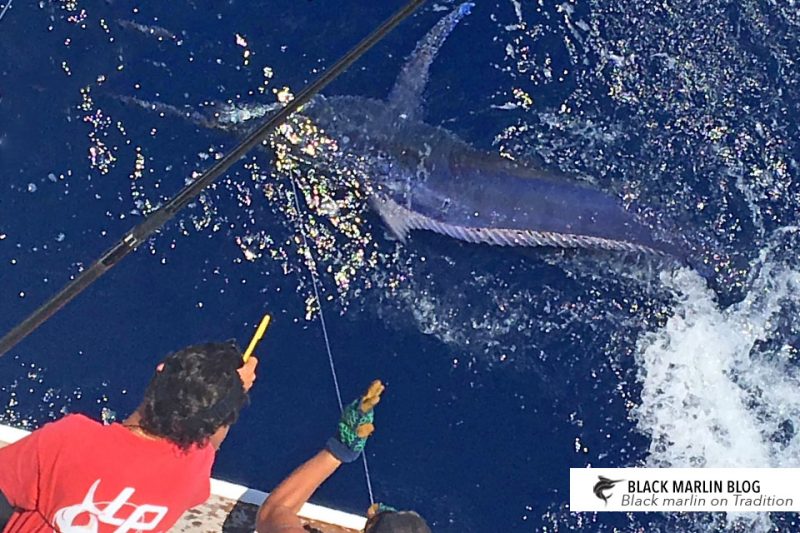 Catching up from earlier in the week when I mention Capt. Steve "Hoggy" Hogarth's Kestelle releasing one late at night that he put in the 1200lb range. Hoggy was in town yesterday so I was able to hear the story which was"Crazy fight! The angler fought the fish for 4 hours and the last 2 and a half we had the double out of the water. She took us into 17 metres of water at the 3 hour mark and Roddy Finlay got the leader but had to let go as the fish started jumping at the back of the boat. Ryan the angler started vomiting about the 4 hour mark so we got him out of the chair and Roddy got in. Roddy wound the preset up and had Michael the owner grab the leader and manhandle the fish up so they could tag it and they then broke the leader and it then did a half jump at the boat and swam off. WOW!"
Hoggy said they also hooked a fish the same size if not bigger the next day but she chaffed off after 15 minutes.
Lizard Island Day 6
Slower day again for tournament boats with only 12 tags for the day. But the leaders keep adding to their tally. Capt. Casey Dent's team on Zulu joined sistership Minke back at Yonge for the day releasing the one they wanted at 900lbs for angler Andrew Hungerford.
Peter and Sheridan Yates' Absolute stormed back into contention and added three to their team tally to also take out the daily.
With the one short day of fishing remaining that puts Zulu in front with 13 tags from Amokura and Absolute on 11 tags each and Pro-fish-ent on 10.
Montebello Sails
Message from Leah on board Capt. Chad Mill's Blue Lightning and reports they have taken their total up the other day to 250 sailfish! They had an 8 way hook up nearly broke Blue Lightning's record but unfortunately lost one. Still landed a 7 way which they have done quite a few times this season.
What a season on sailfish, it's been crazy!