Thursday update: And Thursday for Mistress' last day they added another 12. And the boys on Hold Fast split over two boats for the day and went 6 and 4 respectively.
What a week!
---
Wednesday update: And the good fishing continued Tuesday with Scott Braunds' trailer boat Hold Fast joining Mistress and KEKOA.  Nicholas said that they started off slow on the conversions with at one stage 3 from 16, but ended up with 9 for the day a good result on lures!
On KEKOA we ended up 14 from 15 on our final day and were crossing the bar by 2:30 for the trip home. That puts us at 39 fish for the 2.5 days.
Mistress also took the early mark and ended their trip on another high with 10 for the day all for crewman Ethan who did it all solo including catching one on fly his second cast!  That put team Mistress on 54 in the 3.5 days fished.
---
Tuesday update: More hot fishing yesterday at Fraser Island with Mistress tagging 21 for the day. As Barry tell me this puts their Fraser Island tally for 2019 at 61 for 12 days of fishing!
KEKOA and Pole Dancer finished on 14 and 9 respectively each putting in just the half day to lunch.  All 9 of Pole Dancers fish also on the lighter 4kg tackle which is awesome fishing!
Great fishing on the light tackle which is reminiscent of the magic numbers caught on Heath Irvine's Kamikaze in 2012 (with Jay Graham and Brett Barton on board) who notched up 67 juvies blacks in 2.5 days fishing!
Photo one I took of Mistress on a double releasing one at the back of the boat while the other jumps.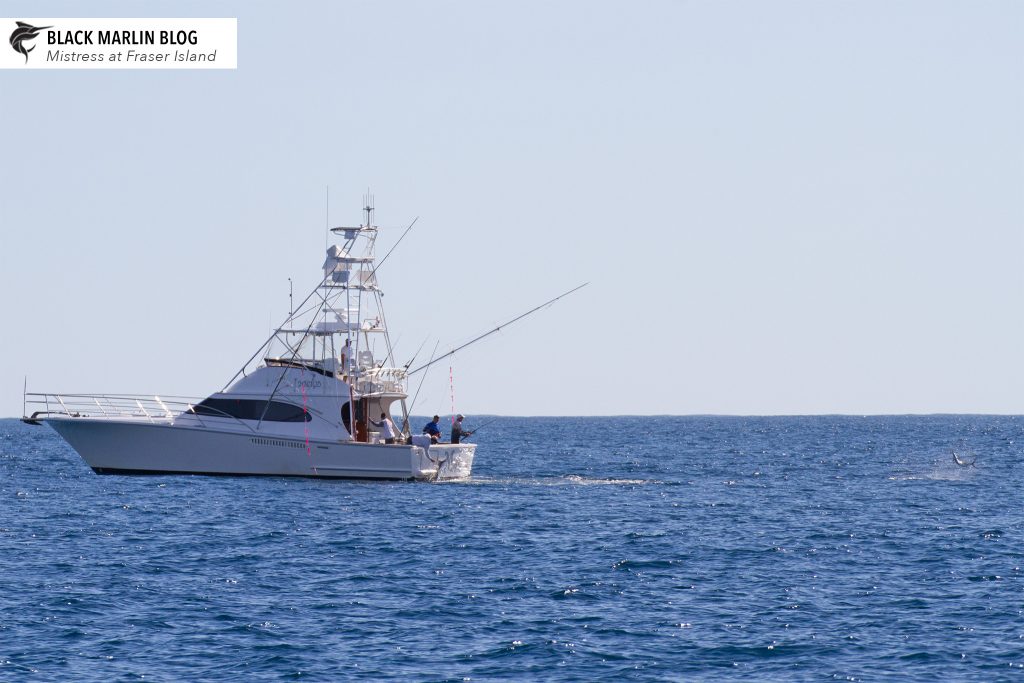 ---
Some hot light tackle fishing at Fraser Island on the little blacks!
Capt. Brett Alty's Mistress went 18 from 23  on Sunday in beautiful conditions.  Following up from their 5 from 10 the day before on Saturday. David "Tagpole" McMaster's Pole Dancer fished his first day at Fraser Saturday tagging 8 on the 4kg. They added another 8 Sunday.
On Sunday Capt. Luke Fallon's KEKOA also joined with solo angler and owner Scotty on board for 11 for the day.
All switchbaiting.