Updated: Fraser Island: Sunshine Coast GFC's Chaos is back in Fraser waters and has recorded 1 from 2 blues Sunday and raised a stripe. Yesterday (Monday) they added a stripe and another blue. Great winter fishing at Fraser continues!
Broome Billfish Classic
The Broome Billfish Classic heads into Day 4 today and there are already some fantastic numbers on the scoreboard. The club is posting sked updates on the Facebook page. So far the stats are (raised, strikes, hookups, tags):
Day 1 – Sails 136-128-96-76, marlin 4-2-0-0
Day 2 –  Sails 242-204-171-121, marlin 3-3-2-1
Day 3 – Sails 465-367-242-189, marlin 6-4-4-3
Outside of the comp, Makaira Game Fishing reported a 7 from 8 sailfish Saturday while at the Montebello Islands, Capt. Chad Mill's Blue Lightning reported 8 on Friday!
Weipa Sails
The Weipa Billfish Tournament will run 5-7 October and club boats are getting a lot of practice in in the leadup. The sails have kicked up another notch over the past week with some great numbers again recorded. Club reports for the last few days included Ben "Notso" Bright's Last Cast reporting 13-10-9 sailfish yesterday. Nearby Whose Your Daddy was 5-3-3 and Get N Any tagged one as well.
Earlier last week the club notched up over 70th sails in three weeks of fishing with the Hyytinen boys (Ross & son Brodie) going 9-6-4 in a 4.5m tinnie and not so pleasant weather. Ben on Last Cast with Nathan Billing tagged 5 sailfish from lots on fly. Gaven Roberts & Andrea Kennedy on Happy Ours  with Dan D'Arcy on board went 8 – 6 – 5 sails and 1 – 1 – 1 black marlin.  Scott Gorman and Darren Lee on That'll Do w11ent 10 – 9 – 6 sailfish, one of those going to newbie on the boat Jordan Styles. Scott also got his first sail on fly. True Blue from Aurukun, tagged 2 from many and Tegan Witcher on Happy Days tagged 6 from 8 solo.
Fraser Blues
More boats fishing at Fraser and enjoying the great run of weather. SCGFC's Pitch Black fished Saturday for a black and stripe heavy tackle and followed up Sunday with a blue to complete the trip slam!  And Grant Thomson's Cjig also finished yesterday with another two blues. Grant said it was a quiet day but the late bite paid off!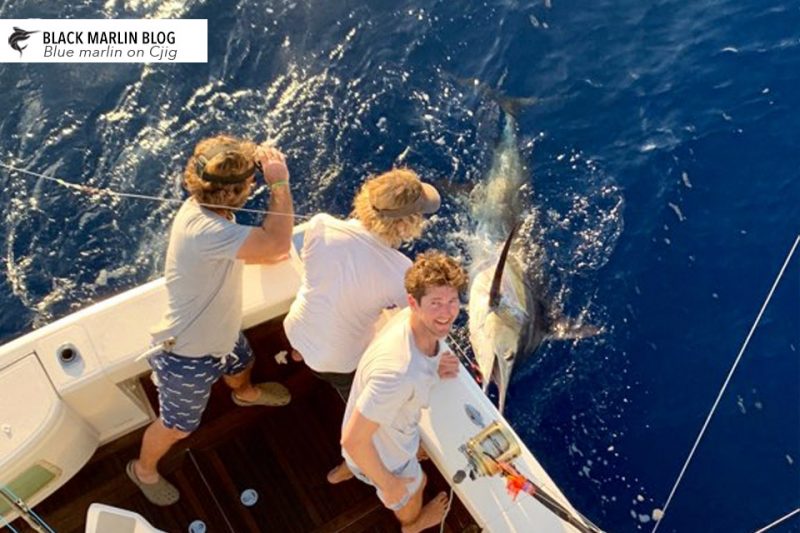 Also on the tournament calendar:
Townsville Billfish Challenge 21-24 August.
Cairns Bluewater Light Tackle Billfish Tournament 28-31 August.
Innisfail Billfish Tournament 26-28 September.