Montebello Islands, WA
The sails are back on the hot bite with Capt. Chad Mills Reely Black and Blue Lightning releasing 27 sails Tuesday photos above!
East Coast to Fraser Island
Grant Thomsen's Cjig did a school holidays trip up to Friztroy Reef. There were no blues on the way up but they did catch one on the way back off lady Elliot canyon.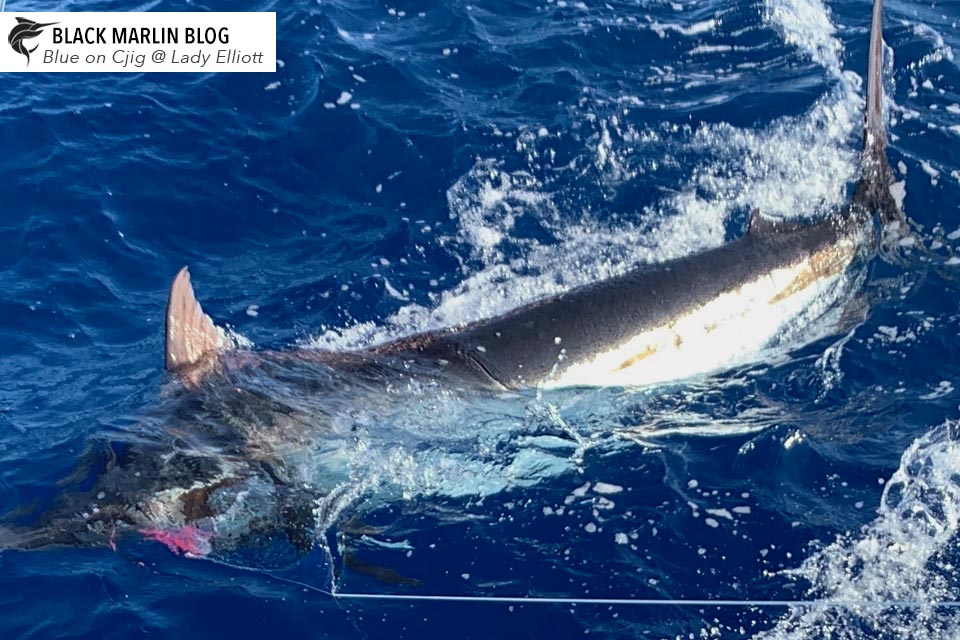 Rick O'Ferrall fish last Friday on Andrew McLennan's On Strike in pretty ordinary conditions, bottom fished mainly due to rough conditions, got some nice red throat and tuskfish.  Put in the light tackle for a couple of hours in the arvo for nil, water was 21.9 degrees. They headed out Saturday into much better conditions that improved as the day wore on and put the heavy tackle lures in around midday. After 1.5 hours the short corner got nailed in classic inside out bite, that then went under the rigger and launched vertical like a missile alongside the boat, before heading for the horizon burning through the mono on the rigger lure. 45 minutes later they got the double on the reel, and it got tail wrapped at the back of the boat, so Rick stuck the tag in at the earliest opportunity.
Reports from other boats were a few small blacks in close, and Rick said he heard of one other boat getting a blue on Thursday and a big Mahi.

Cairns
Still sporadic reports but some recent catchups. Report Tuesday from Tony Carpenter on deck on Hellraiser who finished up with finished up with William from Italy. Tony reports it was pretty slow fishing but they picked away at a few small fish and finished up with a hot 700lbr.
Also a catch up report from Capt. Corey Hard on Askari who released 7 in their first 5 day trip including starting the season on a high with the first fish a big one!
And Capt Tim Richardson's Tradition found some fish up the top yesterday going 3 from 5 for Lydia Fayard Monday and following up with another on Tuesday. Great to see Lydia back on the reef!