Although boats are still struggling this season for numbers and size, the last couple of days fishing have given a glimmer of hope it may be about to happen.
Report in last night from Capt. Steve Ahlers Hellraiser who were in on changeover after a trip with Jim Smith, Dave Harris and Brandon Walton. Tony Carpenter reports it was overall slow fishing but they got lucky with a handful of rats along with fish of 700, 850 and this fish (top) that they put at 1100+ which unfortunately they lost at the back of the boat!
Lucy Nadebaun reports 2 from 2 on Friday on Linden Bank on the Big Splash (pic below).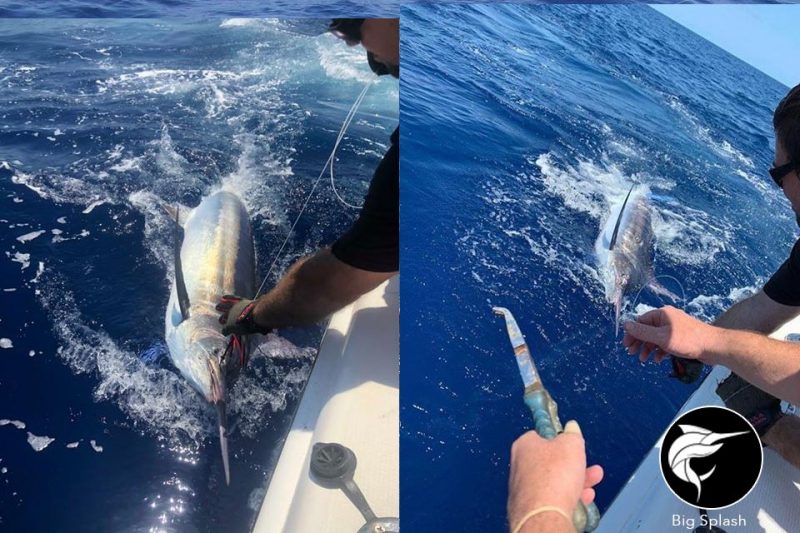 Also some pics from James Kennett on board Halcyon Five last Wednesday. James reports the angler was Matt Lloyd of Adelaide and London who was fresh off a 24 hours flight. Maris Naish on the Helm, Harry Bez was the Deck hand and James Kennett on the camera. Great shots James!
Jan Pado Patterson fished with Paul and Karen Phillips on their boat Shindig up from Townsville for a 300lb-er off Escape Reef.
The Cairns Professional Game Fishing Association's 2 Day Shootout was won by Capt. Corey Hard's Askari with 2 fish on Saturday with some slow fishing for the fleet up the top.
On Capt. Luke Fallon's KEKOA we finished up our trip with Brian and Clark from Texas with a fish for both gents and started a new trip yesterday with a black marlin for Ben and also raised a blue marlin which didn't switch off the teaser.
A catchup from last week from the team on Beluga, Zulu and Levante who enjoyed four days of fun with the owner and friends starting at Number 5 Ribbon and fishing their way up to Yuong Reef. Levante released a small fish (250lb) and had a couple more bites that didn't convert. Zulu jumped off a couple of fish including a mid ranger Saturday afternoon. They also had a couple more bites that didn't convert but generally quiet all around.