Well the first successful release of a grander black marlin of the 2019 season was finally reported yesterday with word from Grant Thomsen fishing on board the big Maritimo Serendipity with Balfour Irvine and Raffi on the leader and Brutus on the wheel. Grant says that Balf did a great job with 1.5hrs on full drag. Photo at top!
Report from Jay Edwards aboard Peter and Sheridan Yates' Absolute. Jay said they fished five days for not much action until the last day. The Bank looked great and they raised a couple of fish without getting the bite. Until 3:30pm and in the next 40 minutes went 3-3-3!
Sheridan kicked it off with a nice fat rat of 300 pound. Then Brenton Yates put his dodgy bicep to the test with a solid 650 pounder that we hooked while re setting the baits. Another minute or two of trolling got the sneaky bite on the back bait and when John Priddle came tight on a a lit up 850 pound black tore up the glassy conditions! A fantastic way to finish the trip.!
Pete and Sheridan have had a tough year but it was good to be at sea having a laugh and relax with good friends. Peter would like to thank the Cairns Professional Game Fishing Association and Tim Dean for their work with the Kye Yates Memorial Shootout and in fundraising for their Charity.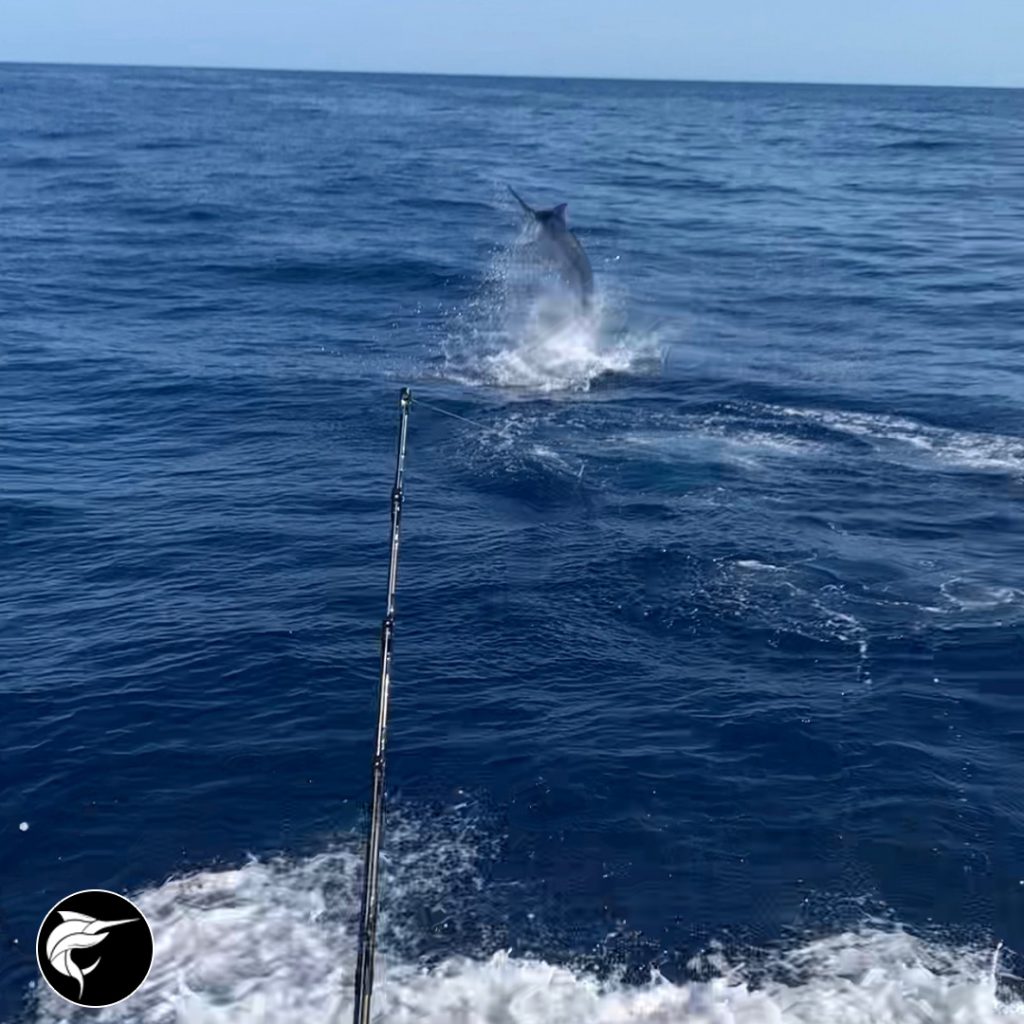 Simon Carosi reports a couple of great days fishing on board Marcus Hogg's Aura with a 900lb-er released Tuesday and following up with one around the 750lb mark yesterday.
And Capt. Ashley Matthews Real Busy has made its annual journey to Cairns via some mates from Airlie Beach fishing the Coral Sea.  Ashley says that they fished a day at Flora and raised a nice one for no bite. There were also plenty of wahoo and dollies.
They fished Holmes the next day and jumped off a 400lber but overall pretty quiet. The next day at the Cairns Sea Mount was different story with loads of jelly bean yellowfin which resulted in 4 marlin bites for 2 fish at 500 and 350lbs. They finished up south of the Bank and raised 3 for 2 bites and jumped off a 200lber.