It's been a crazy good week of fishing on the reef again this week although internet reception is making it hard to share, here's the catch up report!
Capt. Daniel McCarthy's Moana III fished regular client and Japanese IGFA rep Ichiro Takahashi this week for some incredible fishing including an outstanding day Friday with three fish that Dan put at over the mark. Dan says that they caught one that he put at a grand at midday only to follow up with one that he put at 1100lb at 2pm.  Then, at 5pm another monster jumped on and a 3 1/2 hour fight later she is released at 8:30pm 5nm out to sea.
That follows up from another fish that he put at over a grand earlier in the trip making four in the week.  11 releases for the week including fish at 1100, 1000+, 1000+, 1000, 900, 700lbs.
Capt. Jayson Grey on Levante has also had a big week with 18 from 21 fish in 7 days of fishing with 7 over the 700lb mark.  They had a particularly big day on Thursday with 5 from 6 including a couple of smaller models, a cranky 600lb-er, then a 900+ for Geoff McWilliam, finished off by one that Jayson put at over the mark for John Hillier!
Great photo by Peter Kendall @hit_n_run_aus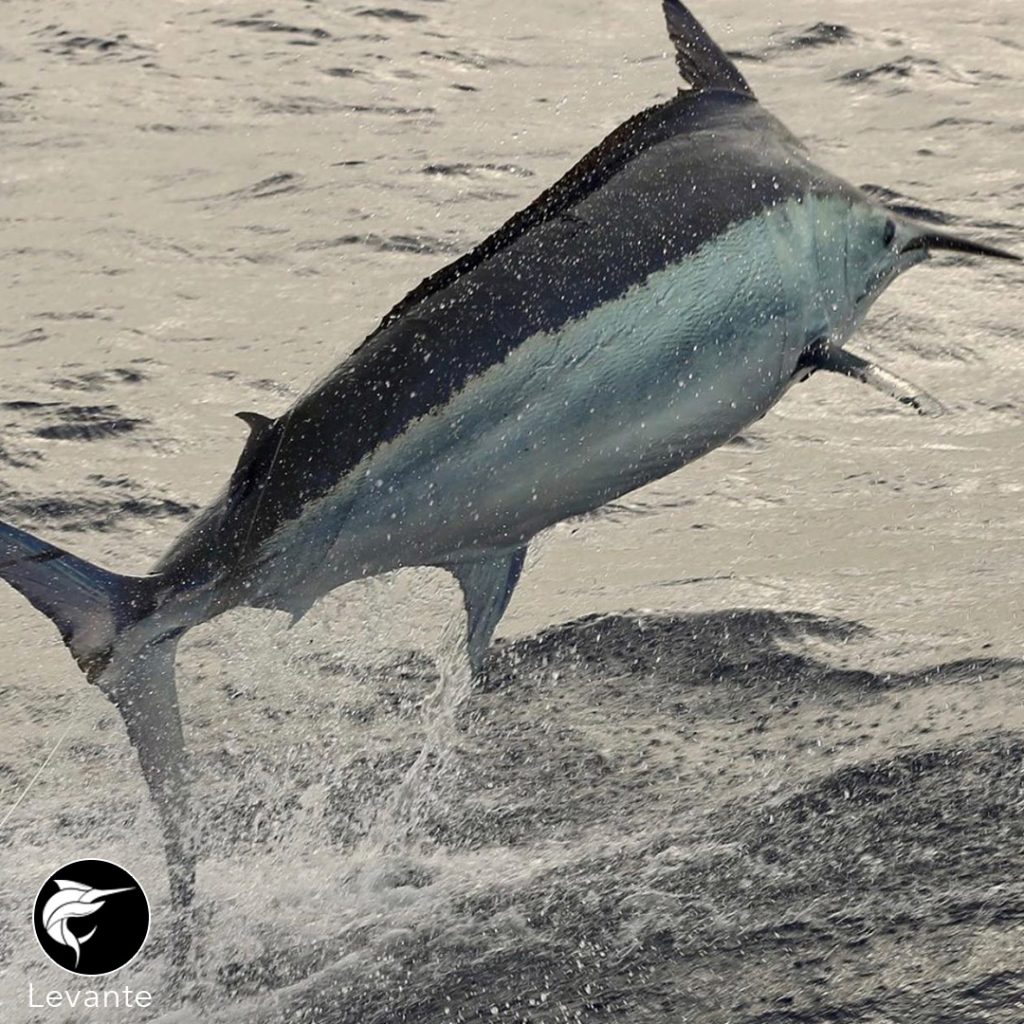 Capt. Luke Fallon's KEKOA also finished up another big fish trip this week with Mark, Glen and Scott Bissaker with a big fish for each of the gents at 1000+, 800 and 750lbs as well as a few mid rangers and smaller fish to make a total of 14 in the 5 days. Here's a pic of Scott's big fish below – a screenshot from the Garmin Virb 360 for a different perspective!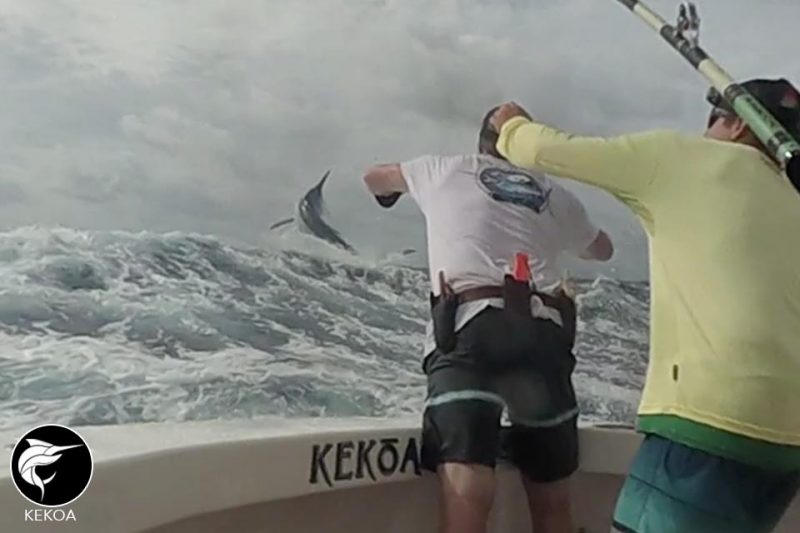 Capt. Tim Richardson's run on Tradition continues.  Tim finished up his last trip with Kim and Lauren with 8 in 3 days including a big one each for the girls with a 700 for Kim followed by a 900 for Lauren.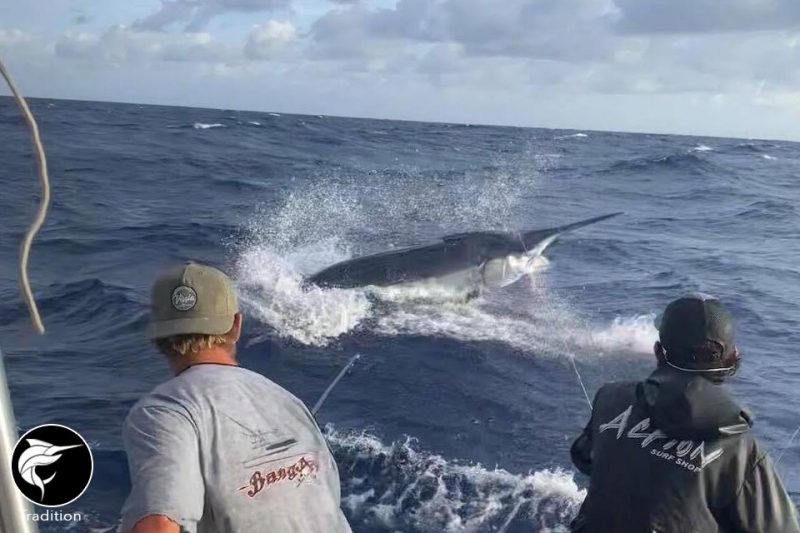 He started a new trip with a family from Spain and young Nicholas was a animal in the chair making short work of 1 out of 2 Thursday. They went 1 from 2 again yesterday as well.
Catch up report from Capt. Darren "Biggles" Haydon's Adventum who had a big week last week with Good week with 13 and 3 x 800lb-ers. This trip as of yesterday were 2 days in with 3 little ones so far.
Capt. Bill Billson's Viking II is back out today after another big week notching up 18 in the past 7 days of fishing to 900lbs. Here's a shot I took of Viking in action this week.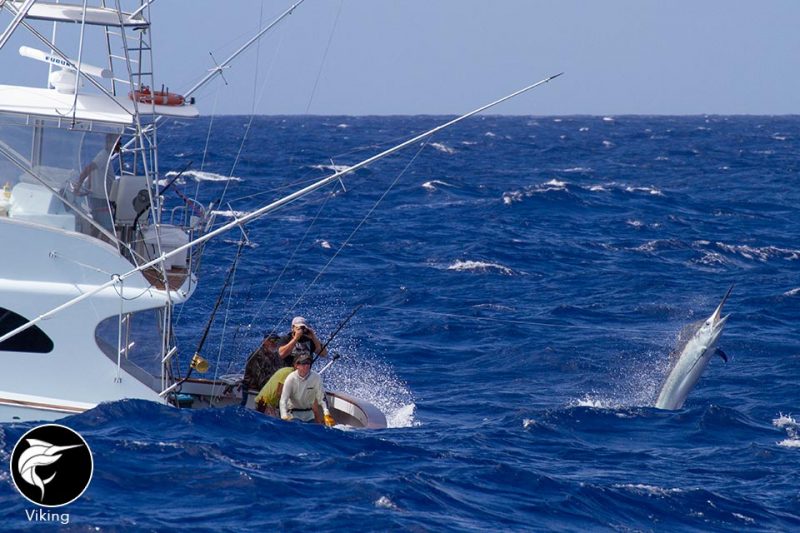 And from Capt. Corey Hard on Askari who ended the Dreaming On gig with 39 for the 30 days with 4 big ones. The first day of their new trip on Wednesday they caught 7 from 11 mainly of the smaller variety but a couple 3 to 400lb models!
And from over in the West Capt. Chad Mills' Blue Lightning Charters has angler Graeme who has been gamefishing for 50 years, but has never caught a blue marlin fishing with them. Yesterday he finally got the fish he was after catching and releasing his first ever blue as the sun was setting on a magical day. As Leah reports how lucky are we doing what we love, and being part of a very special day for Graeme. He has now caught all indo-pacific billfish species. Congrats Graeme!