The Caelli family's Assegai had a great trip fishing Fraser Island this week for 3 and a half days for 13 blues and 1 stripe. Ben says they raised plenty more that didn't bite and also dropped several as well!  World class fishing!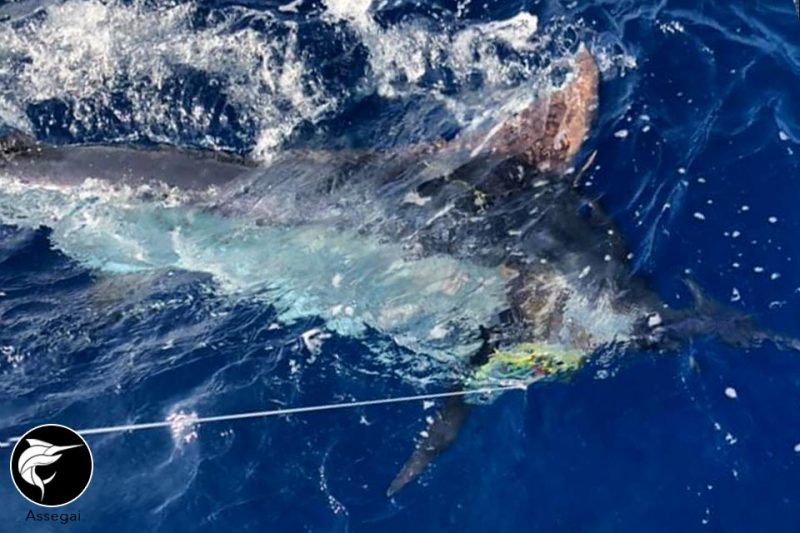 —
Cairns catching up
Captain Tim Richardson has been continuing his run with the family from Spain adding 2 more Sunday and 2 from 3 yesterday including a 850 for Oscar!
Gina Cleaver with skipper Trent Killmore on Ofishal up the top on Sunday and managed a double header on the trailer boat converting and releasing one at an est 800lbs for Gina.
Gina says it was 3 hours of pain on stand up tackle and she is paying for it now. They also had another big one up later in the day. It was quite chaotic with just the 2 on the trailer boat but it certainly was the weather for it!
Capt. Brett Goetze's Amokura was in town on changeover overnight finishing up with regular clients from the States. Brett says that although there were no giants, they did have have their chances missing 2 real nice ones. They ended the trip with 12 fish up to 500lbs!
And a report from Jason on Marlin Brando who tried bait fishing on the weekend at Linden Bank which he usually stays away from (preferring his own lures). Jason said he ended up 7-2-0 and learned a lot of what NOT to do when using baits! While he thinks he'll be back on his lures next trip he did enjoy the good numbers of strikes!

Port Douglas Marlin Challenge
Congrats to the team on board Capt. Dan Bergamo's Wild Turkey for the win.
The final tournament results:
Champion Boat – Wild Turkey
Champion Angler – Bob Reynolds (Wild Turkey)
Runner-up Boat – Black Magic
Runner -up Angler – Guy Frankland (Black Magic)
Photo Catchup
Catch up photos from Capt. Craig "Sparra" Denham's Hot Shot from the big fish last week including a 950lb-er for Joel Ide and 900 for Will Heaney.