Young Lily Sims has had an awesome few months of fishing off Cairns honing her skills and now has several potential records to show for it. Topping it all off yesterday with a new Potential World Record black marlin of 15.1kg on 1kg line on her family's Bounty Hunter! Lily fought the fish for an amazing 2hrs 15mins which is incredibly difficult on the ultra line tackle. What an amazing effort!
This weekend's fish follows up from her recent record submissions of three pending Australian and Queensland Junior black marlin records.
18.5kg on 2kg
12kg on 3kg
15.5kg on 4kg
The 2 and 3kg records both caught in a few days off Cairns just a week after losing one on each after a mammoth combined 10hrs of fighting! The 4kg record was from back in July and its great to see the time Lily has spent on the water this season paying off! Huge congrats to you and the team on board!
---
History: I shared this on my personal Instagram account but I realised that this type of thing is great history to share so I wanted to add it here too.
This one has a bit of significance in my family. Lily's record will break my mother's (Anne Dalling) existing World Record of 11kg on 1kg line that has stood for 34 years.
As mum says, records are made to be broken and so she's extremely happy for Lily who did such an awesome job!
Mum was the first angler male or female to catch a black marlin on 1kg in the world. The first male capture was two years later and also became the first Men's World Record (and incidentally was also caught fishing with my skipper dad).  By then mum already had already held the 2kg record for several years likewise being the first woman to do that. She went on to lose, then regain that 2kg record several times over the years and still holds it today. She was and is an awesome angler and I'm lucky enough to have fished along side her in a few tournaments here and there.
Incidentally mum's fish was caught in 20 mins. She and I both think Lily deserves extra amazing kudo's not only for the capture but for fighting the fish for so long (over 2hrs)!
Here's a photo of the two records side-by-side for comparison!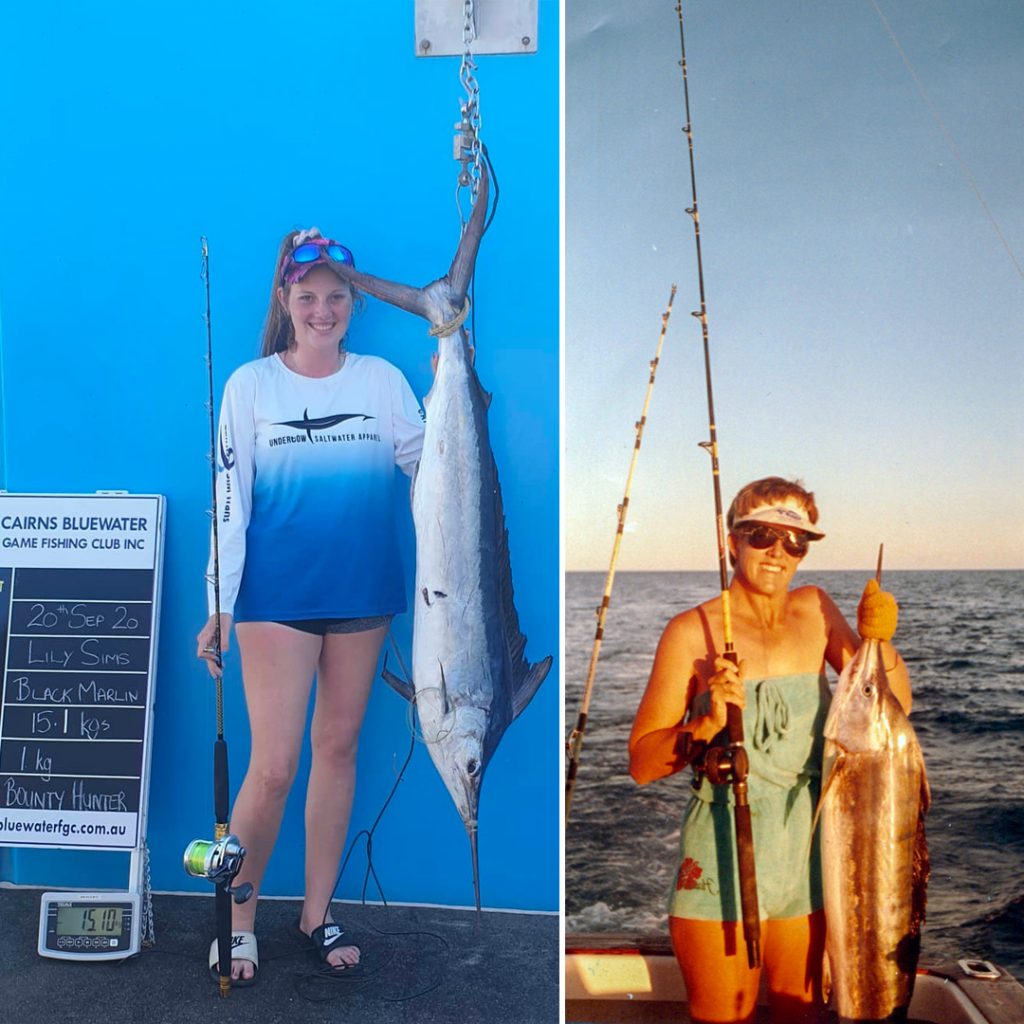 Great to see also that there are so many little blacks still around into late September. They are being caught in good numbers all the way down the coast to Yeppon where Anthony's Vitamin Sea went 4 from 4 on Sunday including a first black for Amanda Gottardi.
And also good to hear some heavy tackle fish showing up at Fraser Island. Nick Jones fished with Braden Byrne on Braden's Nauti-lass on Sunday and went 1 from 2!