2021 signals a post-covid return to tournament fishing and the year has kicked off with some great results already in January. Most notable is the Gold Coast's Light Tackle Masters in the previous report here but there are several other tournaments that have been run and won with some great fishing. Results to follow!
The Port Macquarie Game Fishing Clubs GARMIN 37th Golden Lure Official Results
59 boats competed resulting in 176 black marlin tags as well as 7 blue marlin and 15 striped marlin, 9 sharks and 28 other gamefish. On the capture side, 2 blue marlin, 1 tiger shark, 4 yellowfin and 5 dolphin fish were weighed.
Tag & Release Boat Trophies
Champion Boat T&R : The Omen NPSGFC 150,000 points
Runner Up Boat T&R: Bear PMGFC 125,093 points
3rd Place Boat T&R: Eastbound PMGFC 125,062 points
4th Place Boat T&R: Blackout NGFC 115,000 points
5th Place Boat T&R: Sausalito II NGFC 112,500 points
6th Place Boat T&R: Reel Trouble GLGFC 100,000 points C/B
7th Place Boat T&R: Rush Hour PMGFC 100,000 points C/B
8th Place Boat T&R: Backlash II PMGFC 100,000 points
Champion Boat Tag & Release Blue Marlin only: Carefactor Zero PMGFC 10,000 points C/B
Runner Up: Smine 2 PMGFC 10,000 points
3rd Place: White Dog NPSGFC 8,500 points C/B
Major Boat Capture Trophies
Champion Boat Heaviest Marlin over 150kg: Ramp Rat PMGFC 161.3kg Blue Marlin
Most Meritorious Capture: No Excuse NPSGFC 4571.42 points
Heaviest Shark Capture over 150kg: No Excuse NPSGFC 335.8kg Tiger Shark
Heaviest Tuna Capture: Wild Tuna PMGFC 32.5kg Yellow Fin Tuna
Heaviest Other Game Fish Capture: The Devil PMGFC 18.3kg Mahi Mahi
Tag n Release Angler Trophies
Champion Male Angler T&R: Joel Abercrombie -The Omen NPSGFC 150,000 points
Runner Up Male Angler T&R: Michael Giles- Blackout NGFC 115,000 points
Champion Female Angler T&R: Caron Collins- Weekend Detention NPSGFC 90,031points
Runner Up: Pauline Roods- Little Tinny PMGFC 75,000 points
Champion Junior Angler T&R: Blair Carroll- Bear PMGFC 125,093 points
Runner Up: Rhys Jolly-Sausalito II NGFC 75,000 points
Champion Small Fry Angler T&R: Nate Thornton- Elmad LMGFC 50,000 points
Runner Up: Blake Herbert- Rampage PMGFC 37,500 points
Capture Angler Highest Point Scoring Fish Trophies
Champion Male Angler: Elliot Gyler- No Excuse NPSGFC 4571.42 points
Champion Female Angler: Not Won
Champion Junior Angler: Not Won
Champion Small Fry Angler: Logan Banek- Reel Issues NPSGFC 2485.37 points
First Billfish T&R: Jason Cox -Engagement LMGFC
Last Billfish T&R: Rhys Jolly – Sausalito II NGFC
Most Marlin T&R: Joel Abercrombie 12 fish – The Omen NPSGFC
Most Shark T&R: Robert Herbert 1 shark C/B – Rampage PMGFC
Most Other Game Fish T&R: Brayden Lewis 4 fish – Ramp Rat PMGFC
Special Junior/Small Fry Award: Brayden Lewis PMGFC
Major Lucky Boat Draw: Carefactor Zero PMGFC
2nd Place: Secret Mens Business PMGFC
Boat Furthest Travelled by Road: Wild Tuna
Boat Furthest Travelled by Sea: Rare Breed
Early Entry Draw: Grave Digger PMGFC
Proposed dates Jan 7th – 15th 2022
Redcliffe Peninsula GSFC Australia Day Billfish Tournament
19 boats entered for the two days of fishing with23 black marlin tagged
Champion Boat overall Game Plan
Champion Angler Overall Nathan Wolhulet
Champion Angler Day 1 Dale Williams
Champion Angler Day 2 Nathan Wolhulet
Champion Male Nathan Wolhulet
Champion Female Simone Flood
Champion Junior Ethan Kroll
Champion Other species Chris Virgen
Champion Boat over 7mts Seaduction
Champion Boat Under 7mts Game Plan
1st Billfish tagged Nathan Wolhulet
Last Billfish Tagged David Barry
Champion 2 boat team Game Plan & Nice Aft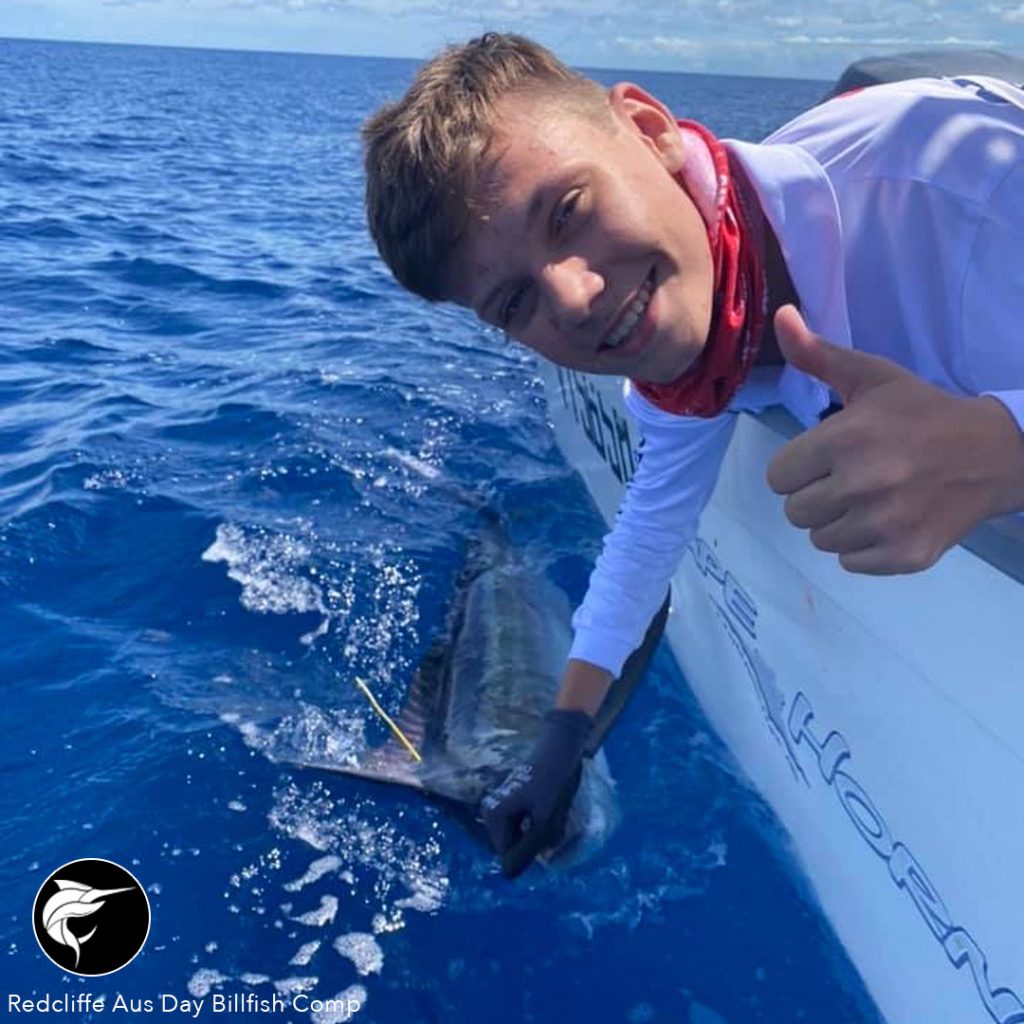 Bermagui BGAC Bluewater Classic
52 boats competing tagged 83 striped marlin, 1 black marlin, 1 mako and 6 dolphin fish.
Most Marlin tagged over 7.1m – Shaitun 10 Marlin
Second most Marlin tagged over 7.1m – Relentless Pursuit 7 Marlin
Most Marlin tagged under 7.1m – Another Screema 5 Marlin
Second most Marlin under 7.1m – short fuse, 3 Marlin on countback from Happy Hour, Mistress & Wet Nickers
Highest point scoring boat – shark – Freedom 2,000 points
Highest point scoring 3 boat team – Shaitun, Syndicate and Greg's boat
Highest point scoring Tag and Release Male angler: – Luke Stuart, relentless pursuit 60,000 points
Highest point scoring Tag and Release Female angler: – Melissa Chaffey, another screema 53,000 points
Highest point scoring Tag and Release Male Junior angler: – Finn Bradley, Mr Hooker 41,500 points
Highest point scoring Tag and Release Female Junior: – Calli Vecchi, freedom 12,029 points
Highest point scoring Small Fry angler: – Nicholas Gilham Sub Hunter 29 points
Heaviest capture: 22.2kg Mahi Mahi Ray Buttigieg on happy hour
Most meritorious capture:Ray Buttigieg Mahi Mahi 739.26 points
Heaviest Mahi Mahi for boat under 7.1m: Happy hour