There is so much good fishing going on right now, Cairns heavy tackle aside…. sailfishing. Coming back to Cairns later.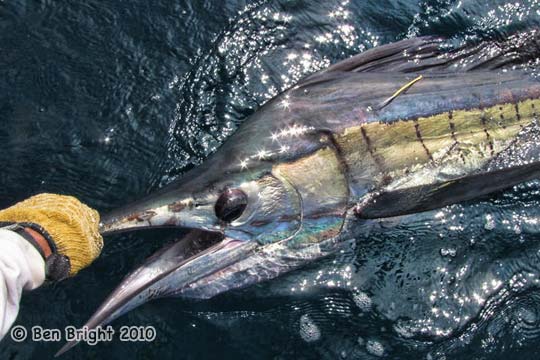 First mention has to go to the very talented, Capt. Ben "Notso" Bright, who often spends time on the reef here off Cairns with us, but this year will remain guiding in Weipa instead. Ben had the day off yesterday so he decided to head out alone in his 6 metre centre console.  What a day, he raised 15 sails, hooked 13 and successfully released 9 including a double header. Yes, that would be solo! He even finds the time to tag them. Great job Ben! Hopefully we can get some hatcam footage out of you soon.
Meanwhile, down on the Sunshine Coast, the newly engaged Smthy (big congrats!) also reports a great sailfish bite, the likes of which they haven't seen since the late 1990's.  The 24 boats competing in the Telstra Shop Kawana Waters Spring Shootout tagged 33 sailfish light tackle and one striped marlin heavy tackle on Day 1.
The 7.2m Kevlacat Reel Capture is in the lead with 8 sails and a dolphin fish, from the trailerboat Raising the Game with 4 sailfish and a dolly, from the 34′ Black Watch Ymer also with 4.  Aptly named 5.8m trailerboat Sailfisher is level with 3 tagged sailfish with Cabelero the 32′ Cabo with a tagged heavy tackle striped marlin.
Fishing continues today with the presentation tomorrow.
As for the heavy tackle off Cairns:
It was another wet and windy day on the Great Barrier Reef (Capt. Dean Beech on Castille III kindly(!) asking for the wind to subside.  Castille is also light tackle saifishing off Cairns at the moment but finding it a challenge in the 20-30knots!)
Our Thursday departure became Friday instead, and as we headed out late, we came across Askari heading back in after a few days up in the Ribbons.  Capt. Corey reported 4 from 9 bites.  Also at the Bank, Dreamin' On added another a 450lb-er to their tally and the new Allure added a couple of small fish as well.  On KEKOA we had Tasmanian bluefin tuna legend Stuart hooked up to his first big Cairns black marlin around the 800lb mark within 20 minutes of putting the baits in the water. Unfortunately once Stuart got her to the surface she managed to cough up the scad bait still hooked firmly to the small barracuda she's just eaten previously in her stomach! (Photo bottom.)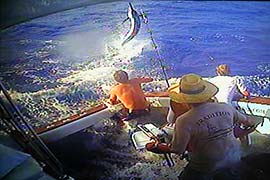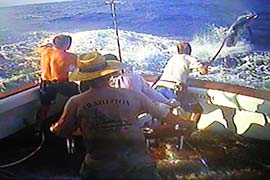 Further north in the Ribbons, Capt. Tim Richardson on Tradition sent me these video stills of Lydie and a frisky 400lb-er which she released on 50lb yesterday. Pete and Lydie are back on board fishing 50lb this week for their fifth year with Tim.