We're still hearing reports of big fish, almost every day. Yesterday, it was Capt. Chris "Sharky" Miles turn on Sea Baby IV releasing an estimated 950lb-er just after lunch.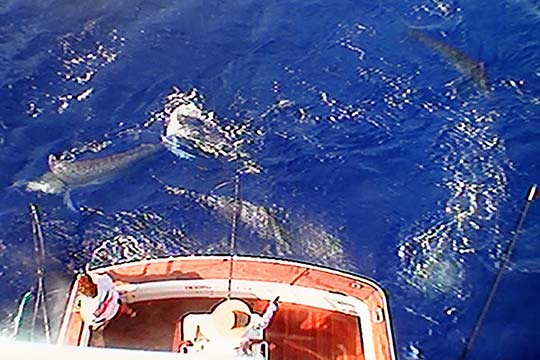 Lydie and Pete are joining Capt. Tim on Tradition on the reef again in search of the 50lb record. And while fishing has been slow for most, Tradition has been picking away at them quite nicely including this one about 500lb yesterday.  Tim sent me this video still which is a great shot and clearly shows a smaller fish with her at the back of the boat (top right corner).  Another great fish Lydie!
Also fishing 50lb on the reef is Andreas from Panama, who is back fishing with Capt. Trent on Iona II over two stints – one now and another later in November.  They raised a nice fish fish on day 1 and spent the next day doing the downsea troll north raising three including a double header to release a smaller fish.
On Linden Bank Dreamin' On added another 400lb-er to their tally.
As for the Sunshine Coast comp:
A great result as SCGFC Captain Rob Smith reports that 80+ sailfish and one striped marlin were released by the 24 competing boats over 2 days. Reel Capture held on to win with 14 tagged sails and a line class dolphin fish from Ymer on 11 tagged sailfish.  Bangalee a 35′ Carribean snuck into third place with some of the sponsor's aboard.  Sailfisher won the small boat section with 7 sails and just missed out on third overall sneaking ahead of Raising the Game by a tagged sailfish.
Conditions on the water were tough for all boats (close to a strong wind warning) but luckily the tournament went ahead and competitors were able to experience the awesome fishing.  Congrats to all who competed!