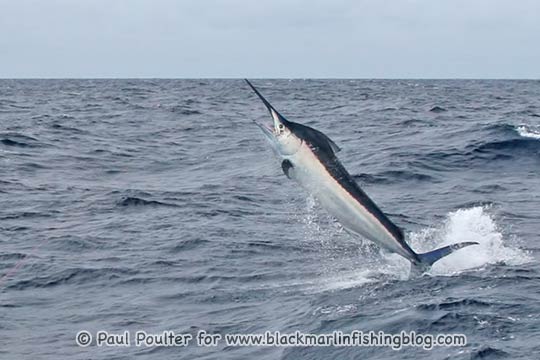 It seems that the big fish that have been seen on the southern grounds in the last couple of weeks were certainly biting yesterday.
My first report came from Capt. Tim Dean on Calypso as they began their run back into Cairns at the end of a 7 day trip with two from three for the day, including one they hooked in 'overtime' at Spur Reef just before lines in.  Angler Darren from San Antonio, Texas, releasing a monster fish that Capt. Dean put well over a grand — and one he called the largest fish he's seen this year — after a 30 minute fight.  Tim says it was a great way to finish a trip, and exactly what his guests had come to the reef to do. They finished up their 7 days with 10 from 14 – what a week!
Next up I heard from Capt. Chris on Amokura who had an absolute blinder of a day.  They released four fish within an hour period from about 2pm at 200, 250, 550 and 700lbs.  With four fish released could it get any better?  Yes, and it did. At 4pm they hooked up to another monster that Capt. Chris put well over 1000lbs.  After a long fight with the fish on the leader several times and the drag on sunset, they cracked her off after two hours for an elated but exhausted angler Paul Hogg.  Thats five to 1000lbs!
And then there was Kalira with Capt. Ashley Wallis who has been plugging away with another great Sunday going three from four including one that Capt. Ash put at 1050lbs!  Ash reports that makes five fish in two days to 1050lbs!
Fishing Linden Bank with the family over the weekend, Paul Poulter on Think Big also reports some good fishing Sunday, putting his son junior angler Ashley onto his first marlin at 600lbs after a 50 minute fight. Paul tells me Mum was at the helm and Dad took the leader making it truly a family affair. Congratulations to you all! (Photos above and below – thanks Paul!)
Joe Joe with Capt. Tim Ryan fished Sunday as well for a tail wrapped 700lb-er on a lure and jumped off a double header of smaller fish later in the day.  Further up the reef, Capt. Tim Richardson on Tradition's guests Eduardo, Elias and Manuel from the Dominican Republic are enjoying some great fishing even if they couldn't quite convert the big girl Manuel fought for almost two hours yesterday.  Tim says it was a tough fight with a stubborn fish approximately 800lbs at over 70lbs of drag with the hook in the corner of the jaw — but she was lost before she could be released.
And up the top, owner Grant Thompson spent the weekend on Cjig with Capt. Ross McCubbin releasing a 300lb-er on day 1 and a 700lb-er on day 2 – not bad for a weekend visit!
We were in Port yesterday and again today (out again tomorrow and fishing 50lb) and so I had some time to put together a clip of some of the first half of the 2010 season fishing on KEKOA with a montage of 7 of our fish (stills and video) over 750lbs. Enjoy!