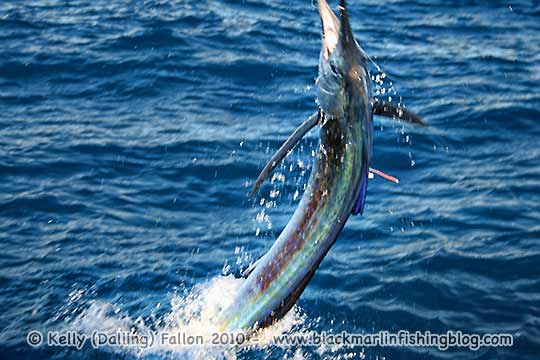 Thanks to Barabara for the results:
Champion angler went to Capt. Kim Andersen's wife Natalie on New Moon on a count back, for her sailfish on 10kg. The runner up was Nicky Gilbert from Townsville on Bill Collector (with the same points for her sailfish tag). The Champion team went to Bill Collector with added points from weighed game fish. Look Sharp's sailfish was caught on heavier line but still came third overall in the Calcutta.
Barbara's boat (5.2m Kevlacat The Edge) was lucky to get champion team under 7m despite having to return to port at 12.30 due to Sharon's illness with a hot mackerel bite in the morning (6) and came overall 4th.
Kelly Barnes fishing with us on KEKOA won heaviest gamefish with her 25.2 kg yellowfin on 10kg.  Congrats Kelly!
There were 37 boats entered in the tournament a great result. As I mentioned yesterday, Chloe Albert on New Moon fought a 200lb black marlin on 10kg line for two hours before the line broke. Bad luck, Chloe! Some more great game fish were weighed including a 22.7kg wahoo for Kasey Koy fishing on Cool Runnings.