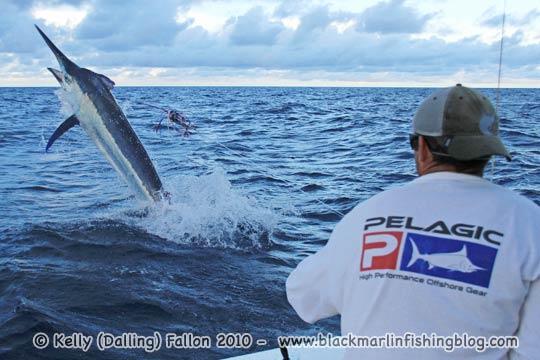 Photo from last week on KEKOA with Jarad "Dingo" Boshammer on the wire.
Well the season is drawing to a close and the reports have become fewer and farther between. Among the few, Capt. Tim Dean on Calypso is still out and fishing out wide for a few more days, and hopefully we'll hear a report from him soon when he comes back in to range.  And Capt. Luke takes KEKOA out for its final trip of the Cairns season tomorrow before beginning the journey south on the weekend.
From next week, the Weekly Skeds will return to take over from daily reports. Thank you all so much for reading once again this season!  But stay tuned because there will still be plenty more to come from the Cairns Season 2010.  –> More photos and video as capatins, crews and guests head home and have some more time on their hands to sort through them all (I made a disc each for our boys of my pics from this year…..totalling over 900!! A lot to go through and so many more to share.)
Bring on the blues, blacks and stripies down south!