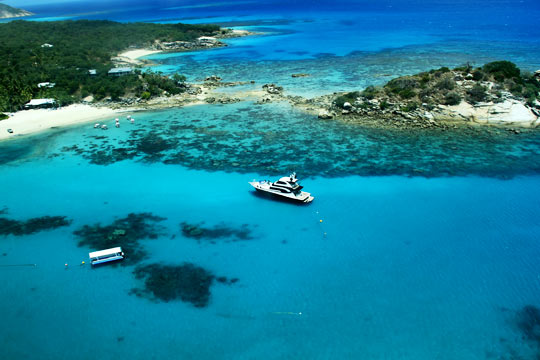 Born to Battle at Anchor Bay, Lizard Island–will be joined at the island by many of the fleet later this week for the start of the Lizard Island Black Marlin Classic.
As we flew back to Cairns from the island yesterday, the wind dropped out and conditions looked picture perfect along the reef. In fact we could just make out members of the fleet fishing on the edge and found out later, the boat that we identified at Number 8 Ribbon was Capt. Tim on Tradition who released a 350lb black marlin for his angler before heading in to spend the night on anchor behind Number 9.
Likewise, one of the two boats we saw running in to Cooktown from the bottom of Number 5 Ribbon would be Kaizen, who finished up their latest trip yesterday and added four more fish in the past three days to bring their tally to 7 black marlin to 900lbs overall for the trip.  I hear that Chris Caphorn was the angler for the 900lb-er, but that it must have worn him out [>grin<], because Rod Webster caught the other six which included his very first black marlin!
We also identified a lonesome boat fishing Linden Bank at the south end which we later discovered was Craig Summerville's Tsunami.  Craig tells me that they released a 300lb-er, with "not another boat in sight"!
Because the boys have been so slack with their black marlin photos thus far this season, I'll have to give you a picture of a white marlin instead. This was taken by Brady Lybarger off Cape May, New Jersey.  Brady will be fishing on Little Audrey this season and so we can look forward to seeing some of his shots this year.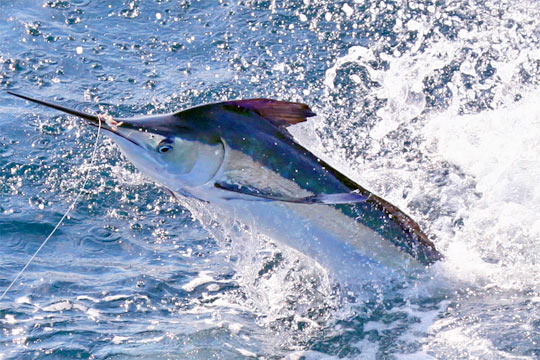 Innisfail Results
The Innisfail Billfish Tournament wrapped up fishing on Sunday followed by the presentation on Sunday night.  The final results were 13 sailfish tagged as well as 2 black marlin and 50+ gamefish weighed.  The final day had its share of lead changes with another 5 billfish tagged.  Overall, in the Over 7.5m category Jim'n I came out on top with the team on Castille III the Runners Up. Ben Heath, on Castille III took out Champion Male Angler with his two sails and Champion Female went to Kathy Genocchio fishing on Jim'n I.
In the Under 7.5m category, Jimmy was the Champion Team for the third year running while the Runner-Up award went to The General. Congrats to all that participated which was by all accounts another great comp.  Ben has promised some photos a little later in the week!
Coffs Harbour
Another club day for the Solitary Islands GFC boats saw striped marlin released for Glen Booth's Wicked Weasel (on a 20+ year old Joe Yee 501!) It was a slower start to the day and not until the afternoon when the boats were able to find the fish. Rick had one decent fish playing around with one lure for several minutes behind Foreign Exchange before fading off as well as several more calls of missed striped marlin as the afternoon wore on.  Late in the afternoon the call came in from Secret Mens' Business who hooked up on a big blue marlin which hit on the only 24kg rig in the pattern (there were three  other 37kg setups out there to choose from). It took off and gave first time game fisherman Chris Cook some fun for an hour and a half before they got it close enough to the boat to get a glimpse. Skipper Doug Sinclair said the fish was "really big", but didn't get a close enough look to make a more educated guess at its size.  As soon as the fish got a good look at the boat, it took off and simply kept going….and spooled them!
Rick says this is the third week straight that above average sized blue marlin have been seen—it's sure beginning to look like a very early start to the blue marlin season in northern NSW, with big fish turning up way earlier than usual!